Articolo disponibile anche in: Italian
On a cold Monday in December, Andrea Cecchi warmed up the night for visitors to the "Foresteria di Villa Cerna".
He inaugurated "Luci in Vigna" (Lights in the Vineyard), a luminous artistic installation by Angela Nocentini, thought of and produced by Riccardo Cioni of La Buccia Clonwerk, an event "smart community".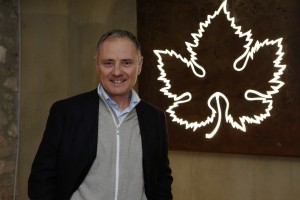 "We gave light to our energy and the power of work", said Andrea Cecchi. "We lit up a Chianti hill in an historic area. We tried to create something natural, not necessarily tied to the holidays".
"This", he predicted, "could become a natural stage for Chianti one day. I hope that these 15 sheets of light illuminate the future, in a "word of mouth" that is born of small things like these, things that bring even more life to the Chianti area in every season".
"Andrea", echoed Angela Nocentini, the installation artist, "perfectly described the simple values which inspired this work. We imagined that these shining sheets kept the vineyard company while we were asleep; they will be there luminous and comforting".
The bunch of grapes, symbol of the harvest, becomes an imposing sculpture in transparent green glass formed by another symbol of wine culture, the "damigiana" (a demijohn in blown glass). It is a natural sculpture created for the place in which it is located.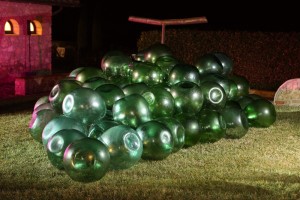 The work of art will be visible until the Epiphany. It is located along the via Chiantigiana, rising from Castellina Scalo towards Castellina in Chianti.
You can find it right after the Cecchi wine cellars, facing the Foresteria di Villa Cerna: you can enjoy the view of the illuminated hill from inside the restaurant.
Matteo Pucci
Read more...