Articolo disponibile anche in: Italian
Piera is a woman of few words. When we arrive in Panzano in Chianti, all of the ingredients for ribollita are cut up and ready to be cooked.
We don't waste any time and start the preparation. During the pauses between cooking one ingredient and the other we hear stories from Piera's childhood, a life spent in the kitchen, which, in addition to being her job for years, from 30 years old until retirement is her grand passion.
Her love of cooking was born when she was young and helped her grandmother cook and share food with friends and relatives. Piera is their point of reference for eating an excellent ribollita, a fantastic tiramisù, a delicious "zuppa di pesce" and many other recipes.
She makes them all happy with her smile and the generosity of one who loves to spend time with people. "I don't like to chat a lot, but I do love to be among others," she specifies while she adds the cabbage and black cabbage to the other sautéed vegetables.
She explains: "This is called minestra di pane, and the day after, add a little crude olive oil and fresh onion, and it becomes ribollita".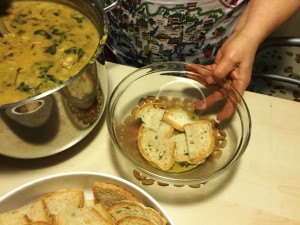 We wait for the vegetables to wither while Piera brings me back to her childhood in the "Bartaline", after the second world war, where she lived the life of a farmer with her family. "We didn't have water, not even a refrigerator, but we had fun".
"My brothers and I would race in the winter to see who woke up first to design on the frosted windows," she remembers.
She tells us about an afternoon spent embroidering together with her friends when she was around 10 years old and the "treccone" past her house with two large baskets. She would peel the irises and sell ricotta to make some money to buy sweets after Sunday mass.
Our time is punctuated by the cooking of the ribollita. After the potatoes, it is time to add the beans. Then she tells us about when she worked in restaurants, farm stays and the cafeteria in Greve in Chianti.
"I always brought good luck to the places where I worked," she says. "There were always a lot of customers and it gave me great satisfaction!"
HERE IS THE RECIPE
Ingredients: onions and leek, carrots, celery, potatoes, black cabbage and Savoia cabbage, all cut into pieces. Boiled beans, tomato concentrate, day old Tuscan bread, Olive oil and salt. You can decide on the quantities.
Cooking time is about 2 to 2 1/2 hours. Sauté the onions and leek in abundant olive oil for 10 minutes. Add sea salt to remove humidity from the onions and make them softer.
Add carrots and celery and let them cook for about half an hour. Then add the tomato concentrate with a little bit of water. Let the flavors mix and when it all begins to boil, add the cabbage a little bit at a time.
Add spices: Piera uses a typical Tuscan mix that she buys from the shop in Panzano. After 20 minutes, add the potatoes and let everything cook for half an hour. In the meantime, blend a part of the beans and well cooked potatoes and add them to the whole ones. Make sure the beans are warm, or they will stop the cooking.
Cook for half an hour mixing often with a wooden spoon. As soon as the foam on top of the pot disappears and the olive oil appears, the soup is ready. In another pot, assemble the ribollita, alternating a layer of sliced bread with the "zuppa".
Luisa Carretti
Read more...