Articolo disponibile anche in: Italian
Fabrizio Ferrrucci (nickname "Maialino") is an institution in Radda in Chianti. Many can't separate him from his Ape Piaggio, loaded with flags, with which he sccots around the Chianti village.
Fabrizio has been the owner of "Bar Dante", at the entrance of one of the doors of the town, for 33 years. "I started on January 15, 1984", he tells us, remembering the starting date of his adventure.
Fabrizio is a "pure" Radda resident and also owns a wine bar in Via Roma 4, which is currently being enlarged to make it nicer and better equipped.
"Things are going well, so I decided to improve it," he tells us with a sincere smile. We will only sell wine and have wine tasting. We won't serve food since we are so close to our bar".
"How do I view Radda in Chianti? Very well. It's the most beautiful town in the world: luckily, now people are also arriving from out of town".
He says this referring to Celine's new building (Celine is a famous international brand in leather goods). It is being built at the roundabout near Villa.
They are talking about it all over Radda and the adjoining towns. It will bring work and a future to the area. It would be simplistic to call "Bar Dante" only a "bar". Fabrizio's professional history tells the story. The delicious dishes that they serve ("we make everything") confirms it.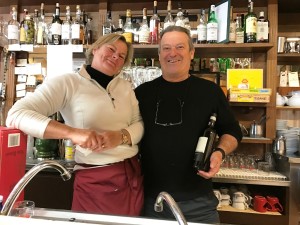 "Before opening the bar, " he tells us, "I was the head waiter in the US in Washington at the Cantina d'Italia, famous in the world. We served Henry Kissinger, Jimmy Carter, Ted Kennedy, and champions like Pelé and Cruijff".
"How did I get there? I left by bus in pursuit of a woman!" he says with a smile on his face. "I returned in the early 80s and worked for a year and a half for an art collector and  then in Milan. Then I took over Bar Dante".
Fabrizio doesn't trust modern cuisine and programs like "Masterchef": "We were used to making simple things. What could be better when we have the best prosciutto in the world, cheeses, wine… many tend to complicate the simple things. Then I took over Bar Dante".
Matteo Pucci
Read more...