Articolo disponibile anche in: Italian
Simone Martini lives again thanks to the able hands of the restorers of the "Opificio delle Pietre Dure" of Florence.
While waiting to return home to the Church of the Misericordia of San Casciano, the wooden cross, one of the most emplematic works of high medieval Italian art attributed to the Sienese master, was trusted to expert hands to heal the wounds of time.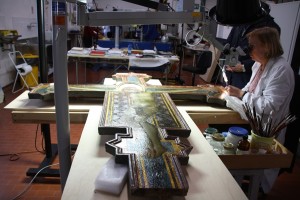 The work is attributed to the great artist of the Medieval Period, who spent one of the last periods of his artistic life in San Casciano, cultural crossroad between Florence and Siena.
The painting phase of the restoration has been concluded and the renovation of the wooden structure as well as the more deteriorated sections will begin soon.
This is a valuable historic artistic work dated 1330 and, considering its small dimensions, was probably created for the Church of the Misericordia of San Casciano, by commission of the Domenican monks of Santa Maria Novella during the 14th century.
The township of San Casciano and the museum system of Chianti Valdarno are promoting a meeting that will explain the work of restoration through the presence of illustrious restorers and art historians.
The work in progress will be discussed in the hall of the town library on Saturday, January 28 at 4:30 PM. The conference will be conducted by Dr. Alessandra Ramat, restorer of the Opicificio delle Pietre Dure di Firenze, and curator of the restoration of the cross by Simone Martini. Professor Roberto Cacciatori will also participate.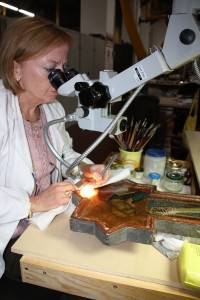 "This will be the first explanation of the activity concerning the restoration of the work of art, which has been in progress since 2011, thanks to the interest of the director, Marco Ciatti," said the museum coordinator, Nicoletta Matteuzzi. "The first important results of the long and accurate restoration of the work of the Sienese painter will be discussed".
"This is an important occasion," says the assessor of culture, Chiara Molducci, "which allows us to call attention to one of the most noteworthy works of art reserved in San Casciano and the church-museum will be visited after the meeting. The crucifix is one of the last works completed by Simone Martini before his transfer to France and the Papal Court of Avignon".

Read more...