Articolo disponibile anche in: Italian
What opinion is wine journalism forming regarding the possible zonation of Chianti Classico? One of the most important voices of our region is without a doubt Aldo Fiordelli.
Fiordelli, food critic, writes for the "Espresso" magazine for which he takes care of the Restaurant Guide of Italy and collaborator for the wine guide.
Fiordelli, after the Chianti Classico Collection, the debate on zonation began. What is your opinion?
"I think that it is a sign of great maturity for one of the main wine regions in Italy to aim for the production of quality wines. Zonation can raise the qualitative level of an already high quality denomination: deeper understanding of the soil and climate can help producers who are less involved from an economic and in a logical point of view to make better wines. Regarding image, it can represent a formidable type of marketing for a territory like Chianti Classico".
Marquis Antinori is in favor. The Consortium of Chianti Classico is open to a comparison with its members. Is the time right?
"The Consortium has been talking about it for a long time, and when the "Gran Selezione" comes from the Vineyard, it is already an attempt in this direction. Marquis Antinori expressed himself in favor of zonation back when he began to produce Tignanello. Joking aside, I think that his declaration is important because it comes from one of the protagonists of Tuscan wine but also because he would never have expressed this too early. Therefore, not only is the time right, but according to me, the Machine is already in motion".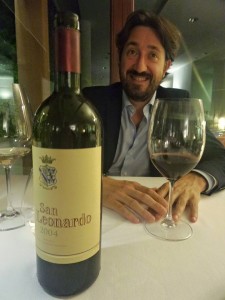 How do you see Chianti Classico on the market today? Would zoning be a plus? Or would it only be "tinsel" on the label?
"I think that excellent wines are produced; clean, fresh which are among the less widespread reds in the world. But do you know that Malbec from Argentina once was concentrated and made 100% in small wooden barrels? Now it is made lighter than before. And the pink Port craze? Chianti Classico today, as well as yesterday, is much more long-lasting then the foreign press is willing to recognize. If zonation helps give a better image of long-aged terroir wine, producers would be able to play their cards for a premiumization for everyone, one that the whole world is waiting for".
Do you consider the territory of denomination adequately diversified to justify this hypothesis?
"Without a doubt. Bordeaux is 60 km long, Chianti Classico, 80 km long. Don't we consider Bordeaux to be St. Estephe and le Graves? And aren't they completely different in terms of aroma, tannins and style? We should do it this way between Berardenga and Lamole".
Over the last few days, many have criticized the choice of the consortium of Chianti wine to increase the amount of sugar residue, giving the possibility of making wines which go against international tastes. How do you evaluate Chianti Classico as far as authenticity?
"The choice of Chianti Wine is a short term choice. We will see the results. But Chianti Classico needs to arrive to the world with stronger commercial strength. Italian sounding products are born for this and they don't always damage us; sometimes they push us ahead. This being said, it is always more indispensable to distinguish between the two, and zonation could serve to reinforce typicality, especially for the best vintages, more refined than that of today or what remains of Chianti".
Matteo Pucci
OTHER ARTICLES ABOUT IT
Read more...