Articolo disponibile anche in: Italian
March has always been a month dedicated to women. Parallel to the celebrations for International Women's Day, we have a sports story, feminine style: the story of Vibeke Bjerg and her army of running "Vikings", ready to paint the next edition of the Chianti EcoMaratona in pink.
The Chianti EcoMaratona is a foot-race event made up of differnt competitive and non-competitive distances. It is hosted by Castelnuovo Berardenga, and this year is in its 11th edition.
It will take place on October 14 and 15, 2017. Saturday, the 14th, will be dedicated to "Arceno Nordic Walking", 11 km. There will also be the 6th edition of the food/wine tour, "passeggiando per cantine," a group walk in search of local products.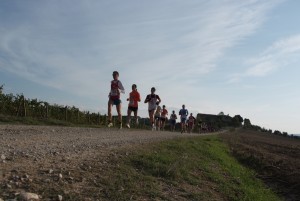 On October 15, there will be three competitive distances: the EcoMaratona (42 km), Chianti Classico Trail (21 km), Trail del Luca (14 km) as well as the "Ecopasseggiata," open to all (10 km).
For the 10th edition, which celebrated the 300th anniversary of the consortium of Chianti Classico, the event had more than 5.000 participants, confirming it an appointment which connected sports and the valorization of the territory.
The growth trend of 2016 saw an increased number of foreigners and women, with more than 600 foreigners participating representing more than 20 countries. The percentage of women rose from 29% to 33%.
Among the women was Vibeke Bjerg, founder and coordinator of the Norwegian feminine running network, FemiROMA-FemiRUN. This year she will be back in the Chianti Hills with a group of foreigners more numerous than ever: the competitive runners from northern Europe will be around 60.
In order to celebrate this grand feminine participation, a 30% discount is being offered for women who sign up for any competitive distance of the EcoMaratona (42 km, 21km, or 14 km), in honor of Women's Day.
You can sign up on March 8, from midnight to 11:59 PM. The discount is valid only for online sign-ups at the site www.enternow.it.
Read more...