Articolo disponibile anche in: Italian
Wine, sports, farm culture, and popular traditions; these are the keys to increasing tourism. San Casciano and the Chianti territory are counting on the Tuscan countryside and the territory's potential to unite and cross administrative boundaries to create new collaborations and alliances with tour operators, farm stays and wineries, hospitality centers, local sports associations and historiccultural associations tied to the popular culture.
This was the winning formula for San Casciano, which saw an increase to over 140,000 visitors in 2015, even in periods that are not usually attractive to tourists.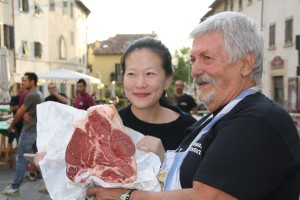 "The Carnevale Medievale, Mille Miglia, Chianti Classico Marathon, Bistecca Championship", declares the Assessor of Tourism Roberto Ciappi, "are choral events, fruit of the collaboration born between the township and the consortium of Chianti Classico wine, ChiantiBanca and local associations that have seen an increase in interest over the years. The latest editions attracted thousands of visitors during the spring/summer season, with numbers that confirm the winning road taken by the Florentine and Sienese Chianti Territories. This is the way to make a difference and increase the value of the area according to a common and coordinated vision by the Chianti tourist system".
One of the most recent operations is the synergy, activated between the Pescini local government and the Pro Loco of San Casciano run by Renzo Masi, for the promotional relaunching of the area with the new seat in via Machiavelli which the Pro Loco shares with Info Point.
The venue has a show that collects photos related to rural landscapes, an exposition of wine products in the cellar of the locale, and an internal courtyard which houses some artifacts of the farm tradition.
"In addition to the incoming strategies, we intend to physically use the venue," continues the Assessor, "to promote wineries and the excellent wine products of the territory. Our objective isn't only to organize events and exhibits but to partly develop the space for the visibility and development of local production".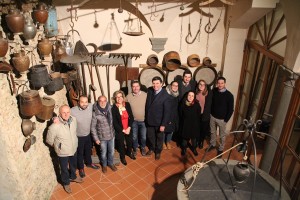 The venue boasts a digital touch screen monitor for transmitting tourist information regarding events and cultural and promotional opportunities.
Roberto Ciappi announces that the tourist promotion of the area will also regard public works that aim to develop architecture and historic monuments as well as the contemporaneity of San Casciano.
"San Casciano beautiful by night, is a new claim," he concludes, "through which we will beautify and valorize the medieval walls, the 'Torre del Chianti' and the fountain in piazza della Repubblica, which will all be illuminated with bands of colored light".
Read more...