Articolo disponibile anche in: Italian
Very often the best meetings of our lives happen quite by chance, and this is how as I was wandering around the Chianti region, I encountered Senio and Elisa.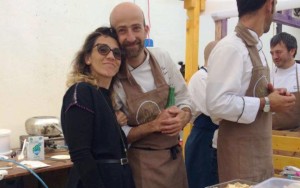 The first time I met them they were serving their new recipe at the Dit'Unto Festival in 2014 (a local culinary festival held every year the first Sunday of October at the Villa a Sesta village).
They smiled at me, I tasted their food and I was under its spell.
I asked, with little hope, if they would cook for private events and weddings and it was a surprise to receive, as their answer, an invitation to dinner.
I think the sensation I first had that evening is the same that my clients now feel when they arrive for the first time at the Asinello Restaurant.
They are obviously tired and quite worried about all the wedding decisions that they have to take, including the catering service, but then they sit, taste and forget all the rest..
You can feel Senio and Elisa's love and passion in the quality of their food, in the regional products they use in every recipe, in each glass of wine and in all the details of the restaurant and the garden.
When the ingredients are these I think that it's quite easy to fell in love and, after spending many evenings receiving complements and thanks, from guests from all over the world, at weddings I have organized, I have understood that the real taste is universal and that they have fallen in love, too.
By Laura Nicolelli Fulgenzi
Wedding and Dmc in Tuscany and Italy – Tuscan Dmc – www.tuscandmc.com
Read more...