Articolo disponibile anche in: Italian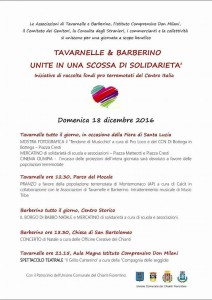 Schools, associations, business owners, Town administrations: all will unite from Barberino to Tavarnelle to help the earthquake victims of central Italy.
This is another direct tie between the two territories and a new occasion to create a common network in favor of those hit by the quake.
On Sunday, December 18, for the entire day, in the piazzas of Tavarnelle and in the medieval village of Barberino our hearts will go out to the victims when citizens, volunteers, teachers and families of the Chianti Territory unite to help those of central regions like Montemonaco, twin City of Barberino Val d'Elsa and Musicchio, hamlet of Amatrice.
Volunteer associations, the schools of Don Milani, the parents committee, the council for foreigners of Tavarnelle, store keepers and the townships are promoting the initiative, "Una Scossa di Solidarietà" (A shock of Solidarity).
The event will take place during the fair of the patron saint, Santa Lucia. There will be collections, markets and lunches of solidarity, movie projections and theatre productions whose proceeds will go to sustain the families of Montemonaco affected by the earthquake. A
ll of the associations and schools of Tavarnelle and Barberino will join in the Piazza to sell products and sweets from Tavarnelle, during the "Borgo di Babbo Natale" (village of Santa Claus), set up in the center of Barberino. A photographic exhibit will be set up in piazza Cresti inside the "tendone di Musicchio" thanks to the Pro Loco and the natural shopping center, Di Bottega in Bottega.
For the occasion, there will be a telephone meeting between Mayor David Baroncelli and the mayor of Amatrice, Sergio Pirozzi in attendance of some residents of Musicchio, who will sell potatoes that they produce. Volunteers of the "Protezione civile" will also participate. There will be movies shown at the Olympia cinema as well.
The Calcit Organization and other local associations are organizing a lunch at the Parco del Mocale at 12:30 PM. There will be cycling for solidarity and entertainment by the Music Tribe. (Reservations: 055 – 805-9504).
At 6:30 PM the church of Dan Bartolomeo a Barberino will present a concert of solidarity featuring students and teachers of the music school, "officine creative del Chianti".
The day will end with Theatre. "Il Grillo canterino" will be presented by the "compagnia delle Seggiole" in the auditorium of the "Istituto comprensivo Don Milani" at 9:15 PM.
Read more...