Articolo disponibile anche in: Italian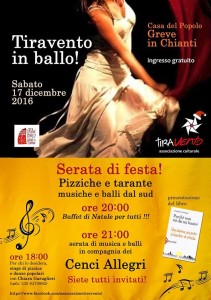 On Saturday, December 17, the "Tiravento" Association, together with the Arci club of Greve in Chianti, is holding an evening of entertainment with tarantellas, music and dances from southern Italy.
The evening starts at 8 PM at the "casa del popolo", with a buffet for all, before beginning the dancing at 9 PM with the music of "I cenci allegri".
The book, "Perché non mi dai un bacio? Una donna accanto ai bambini di strada" (Why don't you give me a kiss? Ah woman next to children of the street), by Francesca Caminoli will be presented.
The book is dedicated to the story of a street artist, of a teacher, heart of the project Los Quinchos, in which some residents of Chianti participate.
Its refers to a village in Nicaragua which gathers, cares for, helps in their studies and search for a job, children who nobody wants.
For those who want to learn the dance steps, you will be able to participate in a sampling of popular dances of the south with the teacher Chiara Garuglieri.
Chiara, a ballerina, graduate of the Academy of Fine Arts of Bologna, has created the dance group, Tarante Fiorentine, which entertains at many parties and events.
Read more...