Articolo disponibile anche in: Italian
With Easter approaching we'd like to present the typical Tuscan "Schiacciata di Pasqua", a sweet bread traditionally prepared during Easter.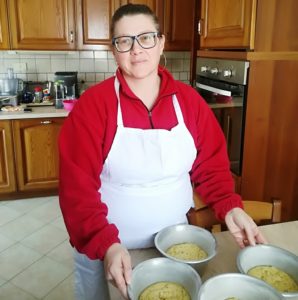 We've asked the best pastry chef in Castellina in Chianti – Mara Bovicelli also known as "Donna Mara" – to give us her recipe. Her big and fragrant croissants have lightened up the mornings of many people who live in Castellina. The scent of her pastries used to fill piazza del Comune.
"It was Alfio who taught me. He used to work at the famous Nannini pastry shop! I used to bake more than a hundred and fifty brioche a day – she recalls – the little dough triangles seemed a bit small to me and so I made them bigger and bigger. The size of my croissants was impressive, and everybody seemed quite pleased with them" she tells us laughing.
Today she's ready to reveal her recipe for Easter Schiacciata: "This is my sister Marina's recipe, she's very good in the kitchen, even more so than me". You could definitely say it's a family gift!
"I remember that when I was a child," Donna Mara continues, "we all used to sit around the table on Easter morning. We used to eat the Schiacciata with eggs and cold cuts because we loved the sweet-savoury contrast. This was our family tradition, and there was a really festive feel. My grandmother was the one preparing them, leaving them to rise during the night under blankets, together with some hot water bottles. She used to wake up during the night to check if the dough was rising properly".
Ingredients for about six Easter Schiacciate
6 eggs
500g of sugar
1 kg of flour
250g of potato flour
250g of butter at room temperature
250 ml of milk
250 ml of water
2 small bottles of aniseed
100g of brewer's yeast
Zest of one lemon
Zest of one orange
One dose of orange flavouring
One dose of lemon flavouring
Pinch of salt
Method
The night before, soak the aniseed in a container with a glass of Vinsanto sweet wine.
Combine the yeast with water and milk in a graduated glass. In the mixer, slowly add the flour, sugar, butter, eggs, potato flour, the aniseed mixture and the yeast.
Mix slowly and carefully until you obtain a smooth dough, then add the extracts and the grated lemon and orange peel. Finally add a pinch of salt and the remaining flour. Pour about 600 grams of the mixture into a container and leave to rise in the oven at 30 degrees with a small pot of water. This will help us to prevent the dough from drying out. Let it rest for about 40 minutes.
When the dough is appropriately wobbly, preheat the oven (ventilated) at 150 degrees. Brush the top of the dough with the beaten egg, bake for about thirty minutes. Taste if it's done with a toothpick.
Let it cool and … what are you waiting for? It's time to enjoy your schiacciata!
Jessica Nardi
Read more...