Articolo disponibile anche in: Italian
Despite the difficulties caused by the 2017 harvest (a 27% reduction in quantities compared to average annual production) 2018 shows a positive balance for Gallo Nero wines.
In the face of a slight reduction in product branding, a drop that comes after eight years of uninterrupted growth in sales and can be attributed both to lower production quantities in 2017 and in part to an increase in the price of unbottled wine, the global value of the designation shows an increase.
The first indication comes from the increase in price of unbottled wines (average in 2018: 280-310 euro/hl), which determined an increase in value for the appellation (+35%), offering greater profit potential also to estates who do not bottle their wines.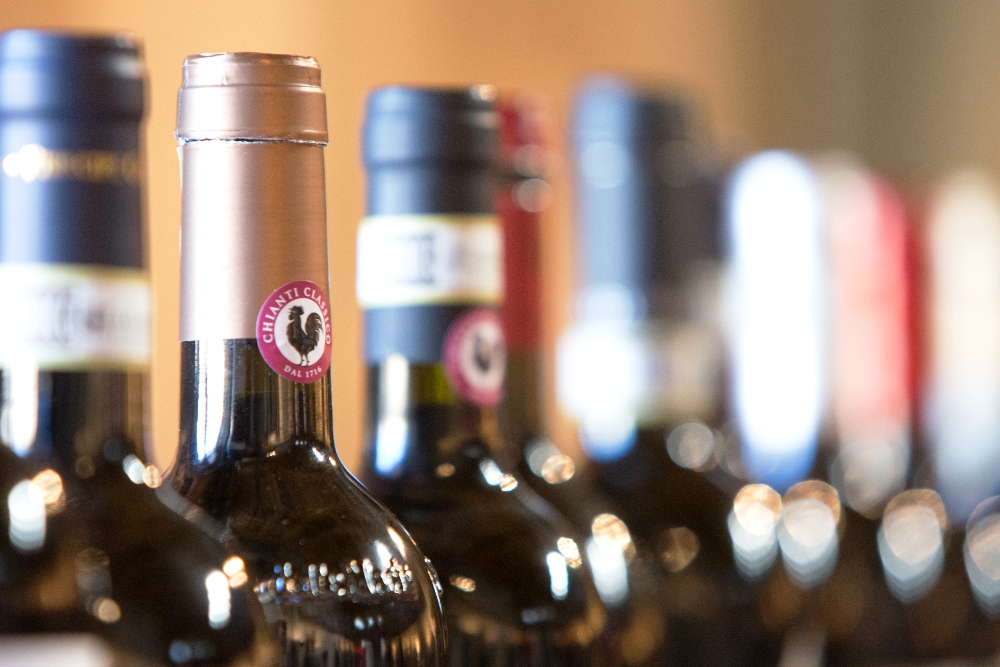 Bottled wines, moreover, confirm an upwards trend – both in volume sold and value – of "premium" Chianti Classico wines, Riserva and Gran Selezione. In 2018 these two types jointly accounted for 37% of production and 52% of the turnover (source: Maxidata).
Turning to the Chianti Classico markets, the USA still holds first place, as it has done for the last 15 years or so: more than one out of three bottles of Chianti Classico are sold in America (34% of total sales, +1% in volume compared to 2017); the domestic market remains stably in second place, with 23% of total sales of Chianti Classico wines sold in this country.
The most important news for 2018 was the Gallo Nero markets bronze medal awarded to Canada, which covered 11% of total sales for the DOC in 2018 (+3% compared to the previous year). This significant result is due to an uninterrupted marketing and promotional campaign since 2012, by the Consorzio Vino Chianti Classico, who have always believed in this market's potential for development.
They have organised events, master classes, large-scale tastings, and last but not least, a selection contest for Chianti Classico Ambassadors in which hundreds of sommeliers and other experts have enthusiastically taken part, and which resulted in the final appointment of three Chianti Classico Ambassadors for, respectively, Ontario, Québec and British Columbia.
The German market has therefore slipped down to fourth place (8%); followed by Scandinavia (5%), the UK (5%) and then Switzerland, Japan, Benelux, China and Hong Kong, Russia and France. From 2018 Australia also appears on the pie chart of Gallo Nero markets with 1% of sales, and is believed by many producers to be another country with excellent potential for developing Gallo Nero sales.
This, in brief, is the economic trend for Chianti Classico, one of the leading designations in Tuscan and Italian wine production. In the next few days Chianti Classico will present the previews of the 2018, 2017 and Riserva 2016 wines at the Chianti Classico Collection, as well as the new Gran Selezione releases.
"We're very pleased with the success of Chianti Classico on international markets," says Giovanni Manetti, Chairman of the Consortium, "particularly, the positive trend in the USA and Canada and the stability of all the other longstanding markets for Gallo Nero wines. I am also happy with the results for the domestic market, which rewards all the hard work put into relaunching the designation over the years, culminating in the introduction of the Gran Selezione, the new type of Chianti Classico, released on the market in 2014. There is still much that can and must be done, and one of my top priorities during my term as Chairman is to further promote the designation and contribute towards consolidating its value and image among the world's finest wines".
Research into Gallo Nero sales conducted by the Consortium shows that Chianti Classico has achieved an extremely widespread market penetration; while sales remain strongly concentrated in the longstanding markets, Gallo Nero wines are also reaching unusual destinations, outside the usual commercial routes, and across all the continents: our DOC wines are now distributed in over 130 countries worldwide.
"For some years the Consortium has been investing in building up our longstanding markets, including innovative activities that will enable us to establish a more consistent and far-reaching presence in the various countries," says Chairman Giovanni Manetti. "As far as possible we will try not to neglect any of them: every single market is important to Chianti Classico and thanks to a more thorough knowledge of sales trends and prices on the different markets, 2019 will be dedicated to studying and identifying the best dynamics to adopt in the near future, in order to consolidate and continue to develop strategic markets like Germany, England, or – further afield – Japan, open new outlets and win new consumer categories in emerging markets like China, for example".
The Consorzio Vino Chianti Classico, the oldest producers' consortium in Italy, is now 95 years old and numbers 510 active members (productive estates), 351 of which present their own wines on the market.
Today, Chianti Classico can rightly be described as a production zone, boasting numbers worthy of a large business, with a global turnover estimated at approximately 800 million euro, a bottled wine production value of over 400 million euro, and olive oil production worth over 10 million euro.
Read more...