Articolo disponibile anche in: Italian
WeChianti goes on a fascinating journey into the kitchen of Giovanni Luca Di Pirro, chef in the Michelin-starred restaurant "La Torre", inside the Castello del Nero in Tavarnelle Val di Pesa.
Their cuisine is masterfully described by the chef and the journalist Claudio Mollo in the book, launched a few months ago, "La Cucina del Castello Del Nero".
The book, illustrated with spectacular photographs, captures all the essence of this special kitchen.
Here we discover mouthwatering dishes, beautifully designed from the first ingredient to the last.
In a journey that combines fresh products, creativity and craftsmanship for excellent results. Allowing us to dream a little.
THE LOVESTRUCK BOAR

Ingredients for 4 people
600g fillet of wild boar, 400g cooked beetroot, 200g fresh raw beetroot, 20g sugar, 30g apple cider vinegar, 30g celery, 30g carrot, 30g onion, 30g leek, 10g cloves, 500ml Chianti, 100g rosemary, 100g sage, 150g thyme, 300g king oyster mushrooms, 40g radishes, 80g black grapes, 30g balsamic vinegar, 25g butter, extra virgin olive oil as needed Salt, to taste Pepper, to taste 400g spinach.
Method
Clean the fillets of wild boar and trim them into a regular shape. Sear them in a hot heavy-bottomed saucepan with a little oil, a clove of garlic and a sprig of thyme.
Wash and trim the carrots, leek, celery and onion, and chop everything roughly. Add the vegetables to the boar and brown over high heat. Deglaze with the Chianti and let reduce, then add water to cover and add the cloves.
Lower the heat and leave to simmer, skimming the surface to remove the scum. After 50 minutes, strain it and reduce the sauce down. Once it has reached a syrupy consistency, season with salt and pepper to taste and stir in a cold knob of butter.
Put the herbs into a very hot saucepan and carefully lower a metal bowl with the beetroot into it. Light the herbs and cover the saucepan with a lid. Smoke over a high heat for about 10 minutes.
Remove the smoked beetroots and cook them in a pan covered with water for 15 minutes. Season with salt, pepper and apple cider vinegar, then blend to a smooth purée with a knob of butter.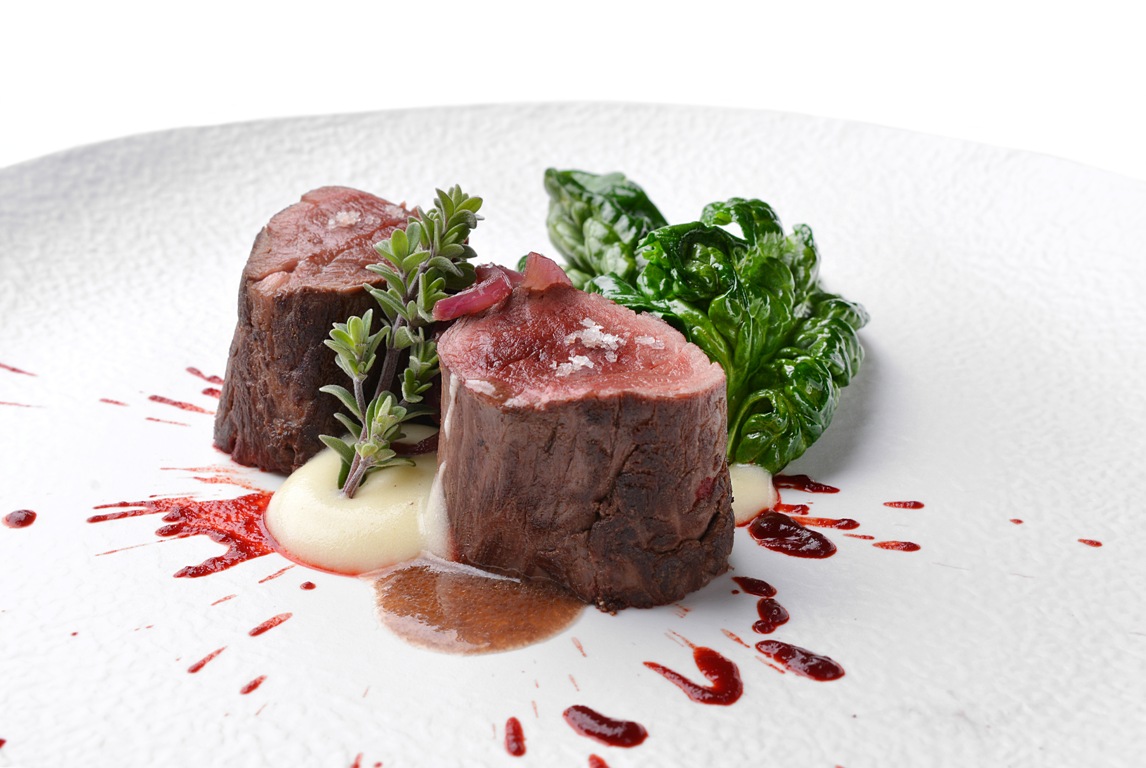 Wash the grapes and cut them in half, remove the pips and sauté them in a hot pan with a little oil. Season with salt and pepper and deglaze with balsamic vinegar.
Leave to dry and remove from the heat. Clean the king oyster mushrooms and sauté them in a very hot pan with a little oil, a knob of butter, a clove of garlic and a sprig of thyme. Season with salt and pepper. Finally, cook the spinach in a saucepan with a little extra virgin olive oil and a knob of butter. Season with salt and pepper.
Melt the sugar in a dry pan, sauté the diced beetroot in it, and deglaze with the apple cider vinegar. Lower the heat, season with salt and pepper and cook through. Heat a drizzle of extra virgin olive oil in a hot pan and sear the fillets of wild boar until evenly coloured on all sides. Season with salt and pepper.
Add a knob of butter, the garlic and thyme, then baste the fillets with the foaming butter for a few minutes. Take the meat off the heat and leave to rest, covered with a sheet of foil, for at least 20 minutes.
Slice into medallions around 2cm thick. For each portion, place three small spoonfuls of smoked beetroot purée onto the plate, then arrange a boar medallion onto each of them, along with a few sautéed mushrooms, grapes and cubes of sweet and sour beetroot, as well as the spinach.
Drizzle with the red wine reduction and decorate with a few slices of raw radish.
Read more...