Articolo disponibile anche in: Italian
"Degustazione Terre di Gaiole" is a great opportunity to learn about wine, in the prestigious setting of the Ex Cantine, in Gaiole in Chianti.
This event will take place on Saturday 27th October, and is promoted by the Viticoltori di Gaiole association, in collaboration with the Municipality and with the support of the Consorzio Vino Chianti Classico.
You'll have the chance to discover the wines of Gaiole in Chianti – with the tasting of 100 wines produced by 25 local wineries – and attend the seminar "L'annata 2016. Viaggi tra i vini di Gaiole".
The aim of this event is to show the rich variety of the wines produced in this area, for a better understanding of this territory and its oenological characteristics.
Here the wine production boasts an ancient tradition, which today is expressed in the "Chianti Classico" denomination, known all over the world by its famous Gallo Nero logo.
The Viticoltori di Gaiole association, created about a year ago by Francesco Ricasoli and Emanuela Stucchi Prinetti, is a network of small and large Chianti Classico wine producers that are located in Gaiole and perfectly represent this territory.
"With this tasting event we want to promote the wines produced in this area – comments the Mayor of Gaiole in Chianti, Michele Pescini – which have specific oenological characteristics and are of excellent quality. Promoting the Chianti wine history is an opportunity for tourism development in the Chianti Classico region. At the same time, it gives strength to the local wine producers, confirming their bond with this land. Gaiole is a tight community, and this represents a source of attraction for the visitors. With 'Terre di Gaiole' our producers have done what in these times seems increasingly difficult: to get together in the name of a common interest. "
"This is the first public wine tasting that we organise – says Francesco Ricasoli – and our aim is to show the rich variety of our wines and grapes, especially the Sangiovese. In the territory of Gaiole there's a great variety of soils, altitudes and microclimates; we have therefore identified four distinct areas with similar characteristics. We invite all wine enthusiasts to discover more about our great Chianti territory".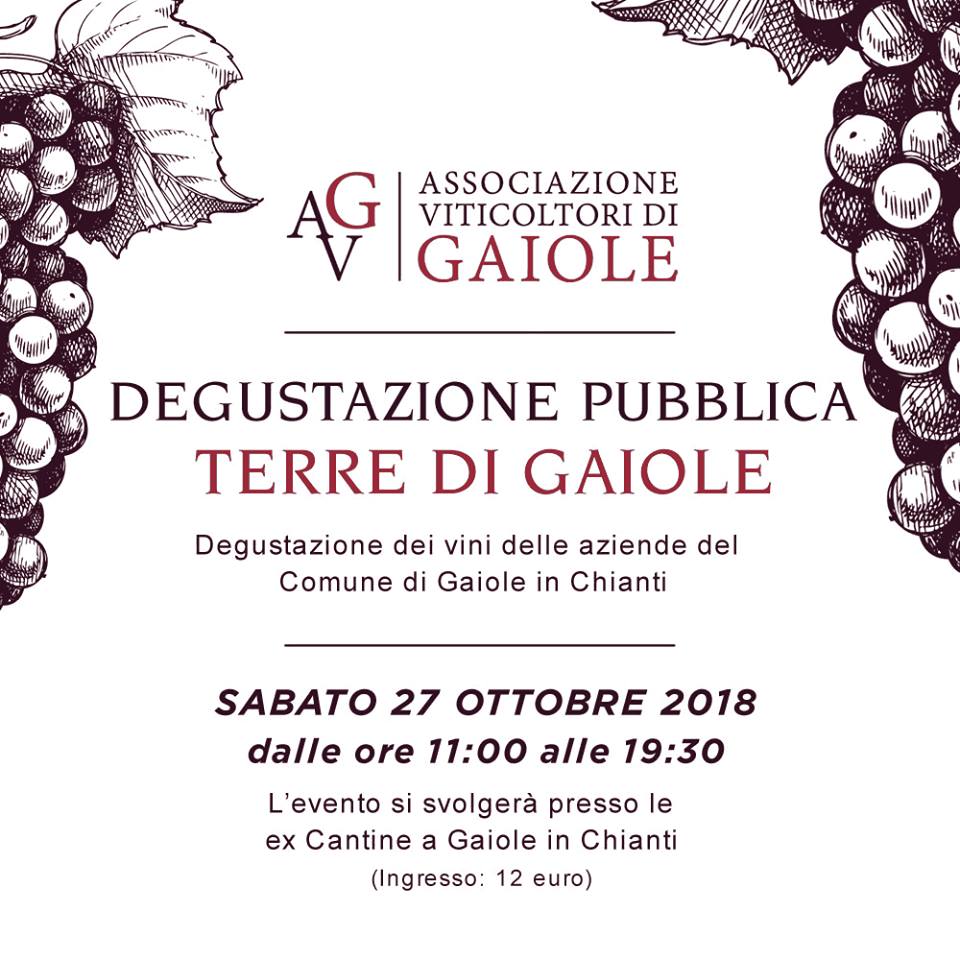 The tasting at the Ex Cantine will be open from 11am to 7.30 pm. Admission: 12 euros. There will also be a food court inside.
"The territory of the historic Chianti area – explains the oenologist Maurizio Castelli – Gaiole, Radda, Castellina and small parts of the municipalities of Greve and Castelnuovo Berardenga, has specific characteristics of climate and soil. This is why the wines produced in this area are unique and unmistakable, particularly the wines produced in the Gaiole territory. This does not mean they are easy drinking wines, they are often austere and not to everyone's taste. You need to be a connoisseur to appreciate the wines produced in this area, whose changeable climate deeply affects the characteristics of its wines. Above all the Sangiovese, that has been representing this specific area for centuries".
The following wine producers will be offering their wines for tasting: Agricola Matteoli; Badia a Coltibuono; Borgo Casa al Vento; Cantalici; Capannelle; Casanova di Bricciano; Castello Ama; Castello di Cacchiano; Castello di Lucignano; Castello di Meleto; Fietri; I Sodi; Il Palazzino; La Casa di Bricciano; Le Miccine; Monterotondo; Podere Ciona; Ricasoli; Riecine; Rocca di Castagnoli; Rocca di Montegrossi; San Giusto a Rentennano; San Martino; Tenuta Perano; Tenuta San Vincenti.
The seminar scheduled at 2.30pm – "L'annata 2016- Viaggio tra i vini di Gaiole" – will be conducted by Roberto Bellini, AIS vice president.
Speakers: Francesco Ricasoli, of the Ricasoli company; Massimiliano Biagi, technical director of the Ricasoli company; oenologists Maurizio Castelli and Federico Staderini.
Read more...