Articolo disponibile anche in: Italian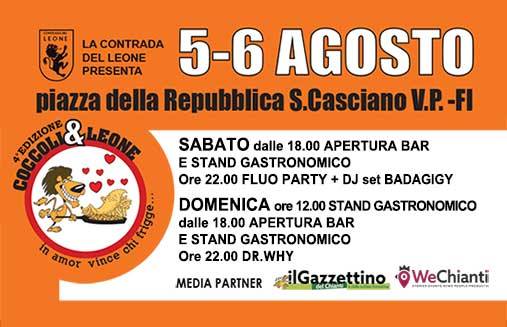 The lion will "roar" again at the beginning of August in the gardens of piazza della Repubblica in San Casciano (il Piazzone), as per tradition of the neighborhood, "il Leone".
On August 5 and 6 "Coccoli & Leone" will be celebrated. Specialty of the house? "Il fritto"! (fried food).
On Saturday, August 5 at 6 PM, the bar opens for happy hour: from 7 PM on, there will be a food stand with fried specialties from the barnyard and the sea.
But that's not all; starting this year antipasto "del mare" will be available as well as the traditional antipasto and the ever-present grilled meats.
Starting at 10 PM, "Fluo Party" DJ Set Badagigy: there will also be a  "Trucco Fluo" point, here participants can be made up for free with fluorescent makeup. Fluorescent gadgets will also be distributed.
On Sunday, August 6, the food stand will open at 11:30 AM for take out, and starting at noon the food stand and bar will be open for lunch: grilled chicken, fried fish and French fried potatoes.
The bar will open at 6 PM and the food stand will open at 7 PM. Starting at 10 PM, "Dottor Why": those who come in first will get prizes.
Like every year, there will be a stand dedicated to the collection of funds for the ABC association.
Read more...