Articolo disponibile anche in: Italian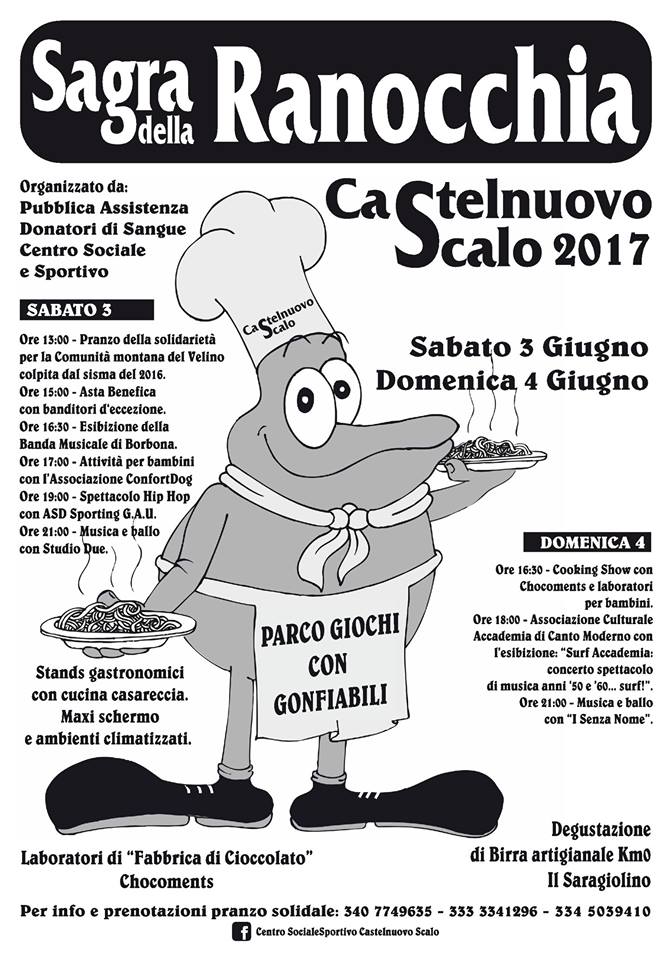 Fun and solidarity in Castelnuovo Berardenga for the people hit by the earthquake… .
On Saturday and Sunday, June 3 and 4, at the Centro Sociale e Sportivo of Castelnuovo Scalo, the "Sagra della Ranocchia" will take place.
On Saturday at 1 PM, lunch in support of the mountain town of Velino and benefit auction: photographs from the SipaContest 2016; paintings and sculpture by di Federico D'Agostino; graphic arts from the Gruppo degli Estrosi. Auctioneers; Giuliano Ghiselli and NAsienaSI Vip. At 4:30 PM, an exhibition by the band of Borbona, followed by activities for children with Confortdog,  Hip-Hop show with ASD Sporting G.A.U.. At 9 PM, Music and dance with "Studio Due".
Sunday at 3 PM, cooking show with Chocomoments and workshops for children. At 6 PM, the Associazione Culturale Accademia of modern canto presents "Surf Accademia: concert of music from the 50's and 60's and…surf!". 9 PM,  music and dance with the "I Senza Nome". Local artisanal beer tasting, "Il Saragiolino".
Info and reservations for the luncheon: 34077496535/ 33333441296/ 3345039410.

Read more...