Articolo disponibile anche in: Italian
On Saturday, May 6, "L'Archibugio" was reborn with the participation of many customers. The restaurant/pizzeria has transferred to the historic center in via Bustecca 10 (Barberino Val d'Elsa) to give still more value to its cuisine.
The fish menu is high quality and varied: tartare, spaghetti with astice, oysters, grilled and fried fish. If you prefer meat, there is a varied selection, including steak and "tagliata di chianina" beef. The restaurant uses only high quality products.
The locale is famous for its pizza baked in a wooden stove.
The dough is fine and crunchy, the pizza is enormous, and there are vast choices of toppings.
The restaurant is in rustic, modern style, simple and elegant, facing a breathtaking panorama.
You can admire the scenery from comfortable seating on the beautiful terrace or the welcoming veranda with its smoking room.
""L'Archibugio" was around for 10 years," says its owners, Patrizia Soffici and Gastone Ceni, "and we took the opportunity to buy it and follow our passion".
"We have known each other for a long time," they say. "Ours is a reciprocal collaboration. In addition to friendship, we share trust. We look for the best solutions for our clientele. And we give each other advice".
"We moved for questions of comfort," they explain. "We won a bann regarding town locales, and began the restructuring of the old "Bustecca" restaurant which closed five years ago".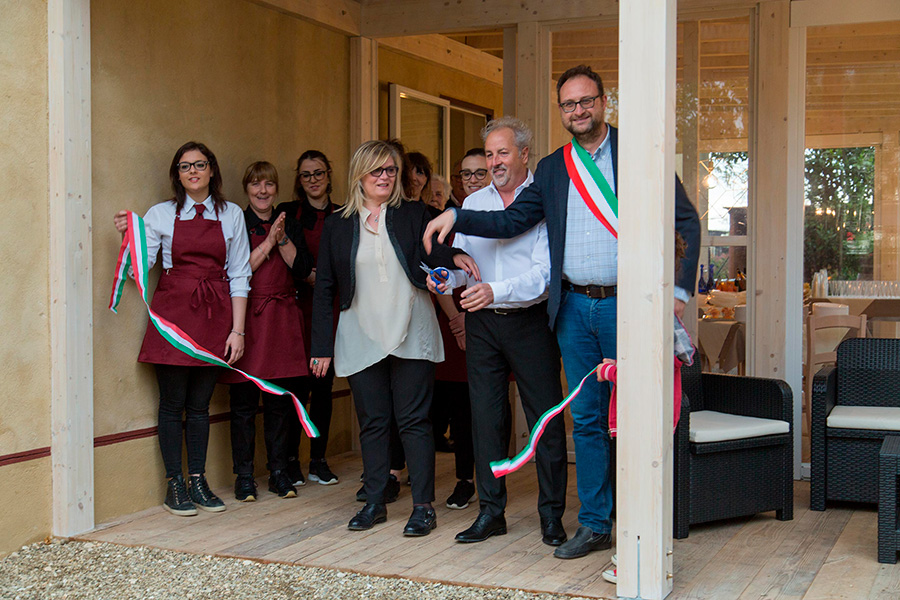 "Although the weather was bad, our ribbon cutting was a success. We offered a rich buffet to those present including our delicious dishes. After that, we have always been full".
You can view the menu on www.pizzerialarchibugio.com. "What are the advantages of the current location?", they ask. "It has a large parking lot attached to the restaurant, more privacy with tables more spread out, a tranquil environment immersed in greenery, and a one level area, which makes management easier".
"We are open every day for lunch and dinner" they continue. "For lunch we propose an unusual and inexpensive solution for tourists and those who work in the area".
"We are are very satisfied. We hope to maintain the fame we have won over these 20 years, with the wish to always improve. We would like to thank all those who contributed to the realization of the restaurant," they conclude. "Architects, painters, plumbers, electricians, tile layers and carpenters".
Cordiality, experience, dedication, food excellence and a magical location are the ingredients that make up "L"Archibugio". And if you are hungry, you can call and reserve a table at 055807520.
Noemi Bartalesi
(ADVERTISING INFORMATION)
Read more...