Articolo disponibile anche in: Italian
The Chianti territory continues to invest in economic and tourist opportunities tied to agricultural biodiversity.
Its aim is to rediscover the rural identity of the territory through a promotional campaign and a series of events that, for a year, will showcase the quality and uniqueness of the products of local tradition.
This is the object of the plan elaborated for 2017 by the Assessor for Production and Tourism o Greve in Chianti, Gionni Pruneti in strict collaboration with area associations.
The plan includes the following: using ancient grains in Strada in Chianti, particularly the "Senatore Cappelli", from a tradition of handmade bread and pasta created by the Fabbri Family for over a century and for more than five generations. The object is to teach the value and health advantages of the cultivation of grain on the national and international scale.
The iris from San Polo in Chianti and its multiple uses, from cosmetics to therapeutic, from alimentary to artistic. San Polo boasts one of the most important crops of Europe.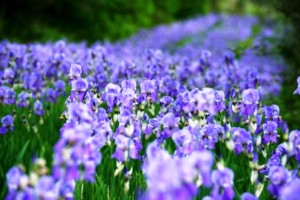 The chestnut, found mainly in the mountains of Chianti, which grows in the forests of Lucolena at the foot of Mount San Michele.
The rice fritters tied to Montefioralle, (one of the most prestigious medieval villages of Italy), which are prepared according to an ancient recipe and a 50-year-old tradition.
Historically, Greve in Chianti carries the prestigious title of wine capital. The local government, led by Paolo Sottani, is promoting this brand in order to multiply promotion opportunities in the territory.
The Promotional Office of the area has already created a program of events for the entire year. We begin with the traditional San Giuseppe festival in Montefioralle, "la Sagra della Frittella", programmed for March 18 and 19. May 4-7 is dedicated to the rediscovery of the iris of San Polo, while at the end of the month, the 20 and 21, the wines "i vini nel Castello" will be on stage in Montefioralle.
The events continue from June 2-4, with the "profumi di Lamole", and on July 8 in Strada in Chianti the festival, "Dalla spiga al piatto", will be celebrated. In September, the scene is dominated by his majesty, wine: the 47th edition of the Expo Chianti Classico will take place in Greve in Chiatni from September 7 to 10.
"Vino al vino" will be hosted in Panzano from the 14-17 and in Montefioralle, with "Montefioralle Divino", wine will be showcased on the 23 and the 24.
The fair of flavors, town after town, will climb the mountain to Lucolena for the chestnut festival on October 20-22.
Read more...