Articolo disponibile anche in: Italian
Vinibuoni di Italia, in collaboration with Veralia, have given recognition to I Balzini from Barberino Val d'Elsa for traits other than the quality of their wine.
The Ecofriendly Diploma of 2017 was created to give appreciation to and encourage wineries which are involved in eco-sustainability.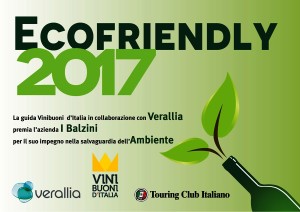 The traits include protecting the territory with the adoption of practices with zero impact, and end with the production of wines which guarantee good health for consumers and respect for the environment.
The Supertuscans of I Balzini are children of a sustainable agriculture chosen with knowledge and awareness.
This has occurred thanks to their using only organic products without chemicals, with processing aimed to avoid weeding, with the choice to lower the weight of the bottles, the installation of a PV plant, the construction of a wine cellar which uses zero energy and the abolition of polystyrene in their packaging.
"As a producer," explains Antonella D'Isanto, administrator of I Balzini, " I consider the land and, in general, nature, primary components of the success and consent that our wines receive in wine guides and on our clients' tables".
"It is also thanks to this gratitude," she concludes, "that I vow to protect the quality of our wines through the love for the vineyards, the environment and their resources. Finally, I consider this a form of respect both for who drinks our wine and for future generations".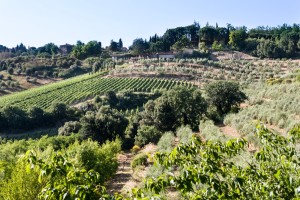 Read more...