Articolo disponibile anche in: Italian
Books about Antonio Morrocchesi's theatre and the historic paths of the territory by San Casciano residents. A photograhic image of the Chianti countryside by Andrea Guasti.
With a cultural tribute, both antique and contemporary, tied to the dramatic and literary roots of San Casciano, the Township decided to honor the carreer of a grand signora of the scene.
The Antonio Morocchesi prize ("Premio Morrocchesi") for 2017 was awarded to Milena Vukotic, protagonist, with Lucia Poli and Marilù Prati, in the show "Sorelle Materassi," now showing on the stage of the Niccolini Theatre.
The show is based on the novel by Aldo Palazzeschi, liberally adapted by Ugo Chiti, and directed by Geppy Gleijeses.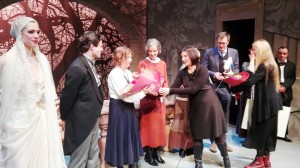 The town administration awards the prize yearly to a protagonist of the Italian theatre panorama. Milena Vukotic began acting in the mid 1960s and has since performed all over Italy, under the direction of a series of Italian and international directors, such as Franco Zeffirelli, Giorgio Strehler, Paolo Poli, Lina Wertmuller and Jean Cocteau.
Vukotic was also protagonist of Italian comedy. You might remember her with Paolo Villaggio in "Fantozzi" or as Count Raffaello Mascetti's (Ugo Tognazzi's), wife in "Amici Miei".
"In addition to Milena Vukotic's intense and prestigious activity in the theatre," declared Mayor Massimiliano Pescini, explaining the reasons for the prize, "was a rich cinematographic and television activity, which made her a well-known face to the public. Her acting, in the many roles she covered in various contexts, was always distinguished by an innate refinement, elegance, sweetness and lightness".
The public tribute, announcedin the presence of the Cultural Assessor, Chiara Molducci, was much appreciated by the actress who thanked the Town administration for the warm welcome.
She dedicated the prize to all of the colleagues with whom she works.
Read more...