Articolo disponibile anche in: Italian
Tuscany is already considered an international point of reference for cycling-tourism on gravel.
The "E"-bike (Electric bike) is the magic wand that allows everyone to immerse themselves in nature and see the most beautiful scenery in the world.
For that reason, Radda in Chianti, in the heart of Chianti Classico, will be holding the first edition of "Il CLASSICO E-Bike" from March 31 to April 2.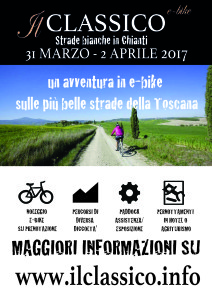 "Il CLASSICO E-Bike" helps those fortunate enough to already have an E-bike and those interested in a sampling of this wonderful means of transportation, to see the most beautiful unpaved roads in this enchanting territory along trails that are optimized for the use of assisted pedaling!
Each participant will be able to choose among trails of different lengths and difficulty; from the shortest, between 30 and 40 km, for those who depend more on the bicycle than on physical force, to the more difficult ones, over 60 km, for those who feel they are "ready to go." Each participant will be able to decide how to best bike the course.
You will be completely free to follow a detailed road book according to your own schedule and rhythm. You can also join a small guided group.
You will have the possibility of going back to the base for a needed pit-stop or to leave for new adventures immediately after a refreshing break.
For the entire event in Radda, there will be a paddock dedicated to mechanical assistance for participants, including the presentation of the most interesting novelties in the area of assisted pedaling.You will also be able to rent an E-Bike for all tastes and sizes.
The framework for "IL CLASSICO E-Bike" is all about the best of Tuscany. You will not only see exquisite landscapes dotted with historic and artistic treasures but encounter warm hospitality as well, including local food and wine specialties which will be waiting for you as soon as you get off of your bike.
There will be many activities available, from wine tasting dinner menus to wine cellar visits.
For information: www.ilclassico.info – ebike@ilclassico.info.
Read more...