Articolo disponibile anche in: Italian
2016 is over. It's time to look at the new sports season. We have to think about a race in which to participate, maybe combining it with a weekend in the discovery of the scenic and wine/food offerings of our beautiful country.
Saturday and Sunday, October 14 and 15, the appointment with the EcoMaratona of Chianti will host its 11th edition.
The 10th edition also celebrated the 300th anniversary of the consortium of Chianti Classico, an event which had more than 5.000 participants between competitive and noncompetitive trials, thus confirming it as an appointment which combines sports and the valorization of the territory.
There were more entries in  2016, with foreign participation counting over 700 athletes, representing over 20 countries. While awaiting the participants and winners of the 2017 EcoMaratona, let us review the fastest of the two competitive trials of the last race.
The Chianti Classico Trail's podium was as follows: Alberto Mosca (Atletica Palzola, 1h17'36"), Marco Quaglia (Asd Top Runners Castelli Romani, 1h26'33") and Marco Oppioli (Golden Club Rimini Internazionale, 1h28'31") among the men; Federica Moroni (Golden Club Rimini Internazionale, 1h36'36"), Elena Briganti (Asd Atletica Gran Sasso Teramo, 1h40'52") and Melissa Ragonesi (G.S.D. Valdivedro, 1h42'03") among the women.
The best of the Trail del Luca were Massimo Negrosini (A. S.D. Atletica Borgate Riunite, 52'11"), Giancarlo Falcone (Asd Top Runners Castelli Romani, 54'06") and Cesare Frullanti (Asd G. Pod. Riccardo Valenti, 55'01") among the men; Chiara Venturi (Atletica Il Colle Asd, 1h04'55"), Elisa Sprugnoli (Gs Polizia di Stato, 1h05'12") and Romina Ferremi (Atletica Brescia Marathon, 1h05'59") among the women.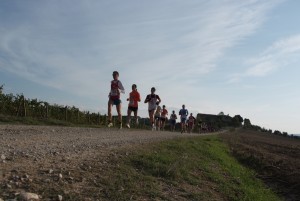 For entry forms and online registration you can visit the web page, "Iscrizioni 2017" of  official website. To relive the emotions of the last race, you can check out our homepage (www.ecomaratonadelchianti.it) and view a video synthesis of the 2016 edition.
Other updates, news, photos and videos are on site, www.ecomaratonadelchianti.it and on social channels, Facebook, Twitter, Google+ and Instagram.
Read more...