Articolo disponibile anche in: Italian
The 21st edition of the Toscana Gospel Festival kicked off its Tuscan season on Saturday, December 10,  at the Goldoni Theatre in Livorno and on Sunday, December 11, in Massa and Cozzile.
Thus began the 2016 edition of the festival which has been teaching history and creating a dialogue since 1996. Since then, the festival has presented 278 chorales, with 2,650 artists and 250 shows filled with singing talent of gospel music from the United States. This year, the chorus will also be visiting our area.
"The Harlem Voices" will entertain on New Year's eve at the Niccolini Theatre in San Casciano. This shows how much the Tuscan public feels united to gospel music and what it represents: a combination of diverse cultures and artistic forms.
In fact, Gospel can be considered the oldest form of popular American music. 21 editions have passed, but the Toscana Gospel Festival still fosters enthusiasm especially thanks to the rapport which it has established with its public, as well as the passion and hard work between the Tuscan Gospel Association and the Office of Culture.
This is also thanks to the sensitivity of many local institutions, primarily the Regione Toscana, all of the townships involved and the general consulate of the USA in Florence, and the support of private companies like the Unicoop of Florence and the Caffè River.
The program for this year's edition is intense and will see a series of concerts from December 10, 2016 till January 1, 2017.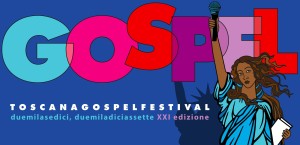 There will be 19 shows in prestigious theaters and historic churches with the participation of groups that come from various parts of the USA, from Georgia to North Carolina to Maryland and naturally, New York.
Some of the major American interpreters of this extraordinary genre of music, men and women who make song and spirit their mission in the world, bring a message of peace and serenity, of tolerance and participation which assumes a special value in this difficult and intense historic era.
There will be new concerts added to the festival calendar: in addition to stops in Firenze, Prato, Siena, Arezzo, Montevarchi, Empoli, Cortona, Sansepolcro, Massa and Cozzile, Lucignano, Livorno, Castelfiorentino, Calenzano, Fucecchio and Castiglion Fiorentino, San Casciano, Marciano della Chiana and Colle Val d'Elsa will be added, All of Tuscany will be represented during this great festival.
Info: www.toscanagospelfestival.net – info@toscanagospelfestival.net – telefono 0575/27061.

Read more...