Articolo disponibile anche in: Italian
A guided tour with wine tasting at the Cantina di Fonterutoli, a magical place overlooking the Marchesi Mazzei estate in the scenic countryside overlooking Siena, is scheduled for April. The event, in support of the Fondazione ANT, is at its second edition.
On Sunday 15th April you'll have the chance to visit the winery by registering in one of the two groups scheduled for 12pm and 4pm – the entire proceeds will be used to support the work of Fondazione ANT.
Up to 40 people in each group can take part in the visit and taste three wines.
This place is famous for its classic contemporary style and the beautiful setting of its spaces.
The winery that perfectly respects the harmony created by nature and the ancient hamlet welcomes visitors and invites them on an amazing journey of discovery.
By the time you reach the lowest floor, where the "barriccaia" is, 15 meters underground, you feel like you've entered an almost sacred, inviolable space.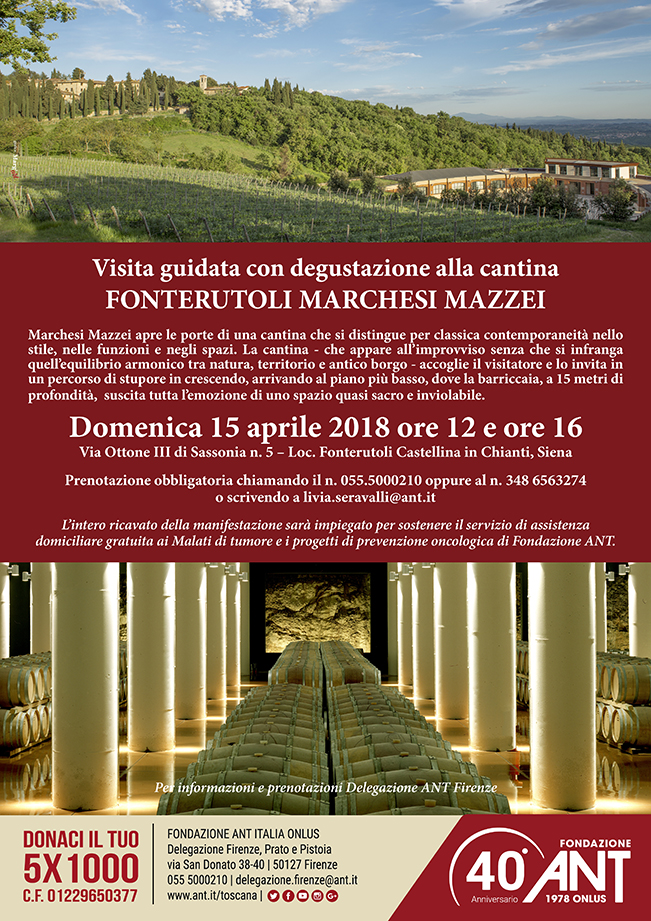 To take part in the event, it is mandatory to book by calling 0555000210 or by writing to livia.seravalli@ant.it.
The minimum entrance offer is 22 euros for each adult. Admission will be free for children up to 10 years -10 euros for children aged 11 to 13 years.
All the funds raised will be donated to support the activities carried out by ANT in Tuscany, and in particular to the free cancer prevention program organized by Fondazione ANT in 2018 in Siena and its Province, through the Melanoma and Tiroide ANT Projects.
Read more...