Articolo disponibile anche in: Italian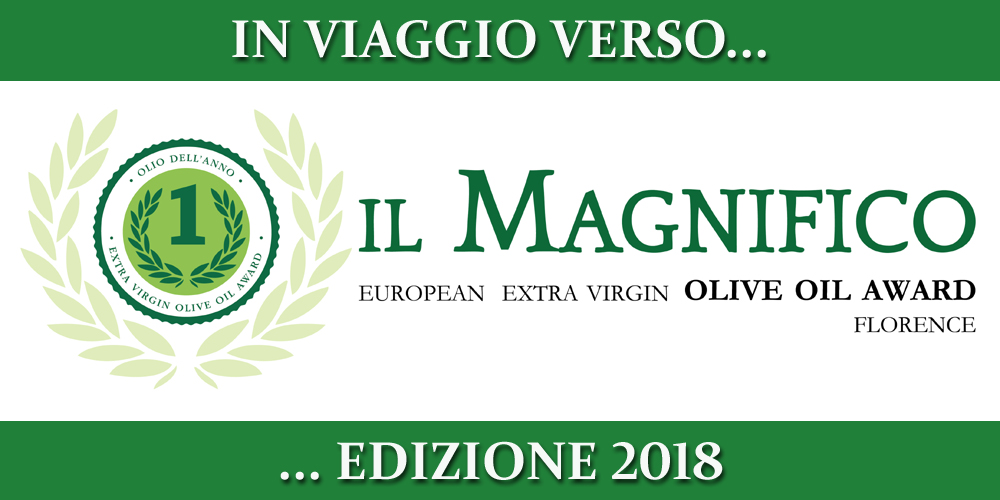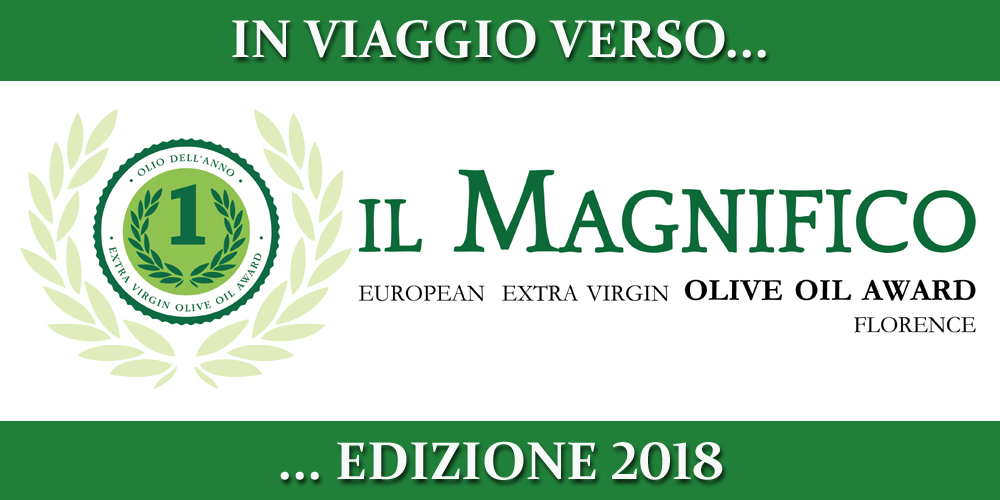 Matia Barciulli is a volcano of ideas, full of enthusiasm. He's from San Casciano Val di Pesa, has two kids (Brando and newborn Cloe), and works as chef and technical coordinator at the Antinori restaurants.
On March 15th he will once again play the role of "great master of ceremonies" at Il Magnifico Olive Oil Award, in the Cantine Antinori.
This award exists mainly thanks to him and Giorgio Mori, who a few years ago thought to give olive oil the prestige it deserves.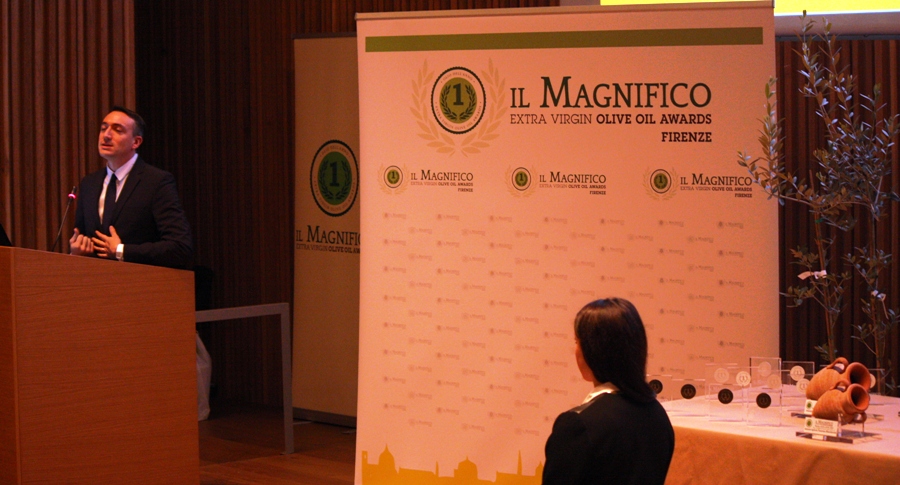 This award is a way to honour the memory of those who are no longer with us (Massimo Pasquini and Marco Mugelli), and to celebrate everything that extra-virgin olive oil represents: quality, employment, development, landscape, and health.
"We expected this year to be quite difficult – says Barciulli – but instead there's positive news. We've received more than 300 samples, out of 1.500. The olive oil producers do a sort of pre-selection themselves, so only the best of their products are sent to Il Magnifico Award".
This year, more than ever, Il Magnifico represents "a reference point for the Tuscan olive oil sector", says Barciulli proudly. We will organise an award for the 20th anniversary of Merum, a specialized magazine that is published in Switzerland, Austria and Germany; we'll be joining forces with the Consorzio IGP Toscano and, of course, the Consorzio Chianti Classico (their headquarters in Tavarnelle is our operational base). Being inclusive is the way to go".
"We aim at the European market – admits Barciulli – and the collaboration with Merum goes in this direction: we are interested in European olive oils but, above all, European consumers".
In short, Il Magnifico Award is doing a great job, with its communication strategies and its collaboration with the finest kitchens ("with the chef of Il Magnifico Andrea Perini, as an example", recalls Barciulli).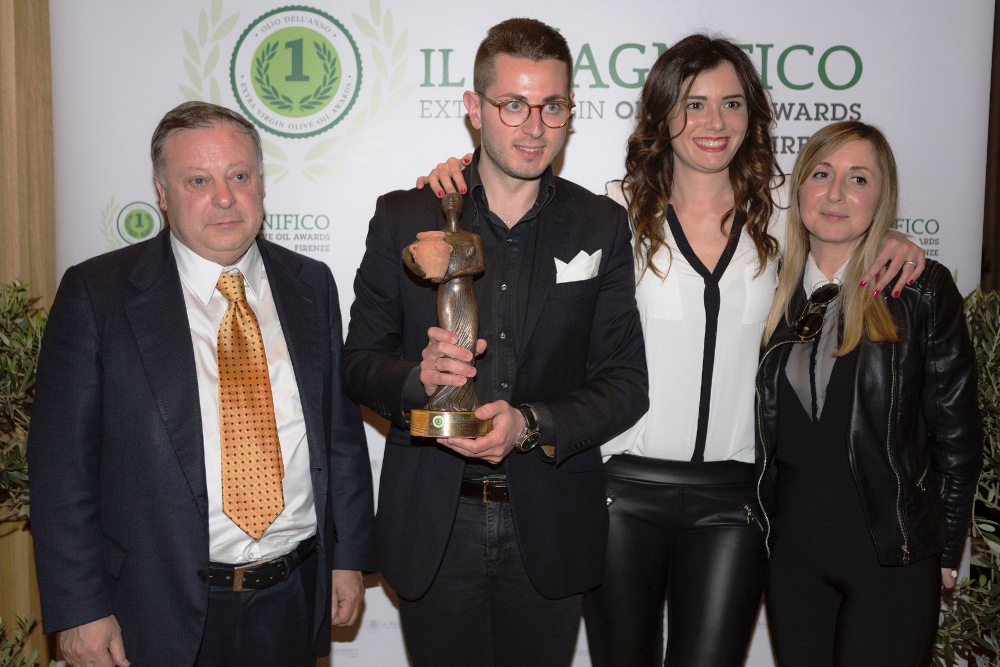 "My main goal – he says – is to divulge and publicise olive oil in all the best possible ways".
This award is a point of reference for many olive oil producers. "We have Europe's most advanced tasters. Many companies send samples mainly to get the panel's opinion on their oils and get an idea on the direction to take. This goes far beyond rankings and competition. It's about education, and quality development".
"This year we're going to revolutionize the prizes – continues Barciulli – All participants will have three nominations. There are three awards that are very special to me: "full value "(small quantity of the highest quality), a sort of critics' award; "best packaging" that demonstrates how the oil has won its battle, having greater freedom compared to wine; then "kids choice" with a panel formed by the schoolchildren of San Casciano and Barberino. With this I want to make the producers understand that they must please as many people as possible. It's an educational message, I hope".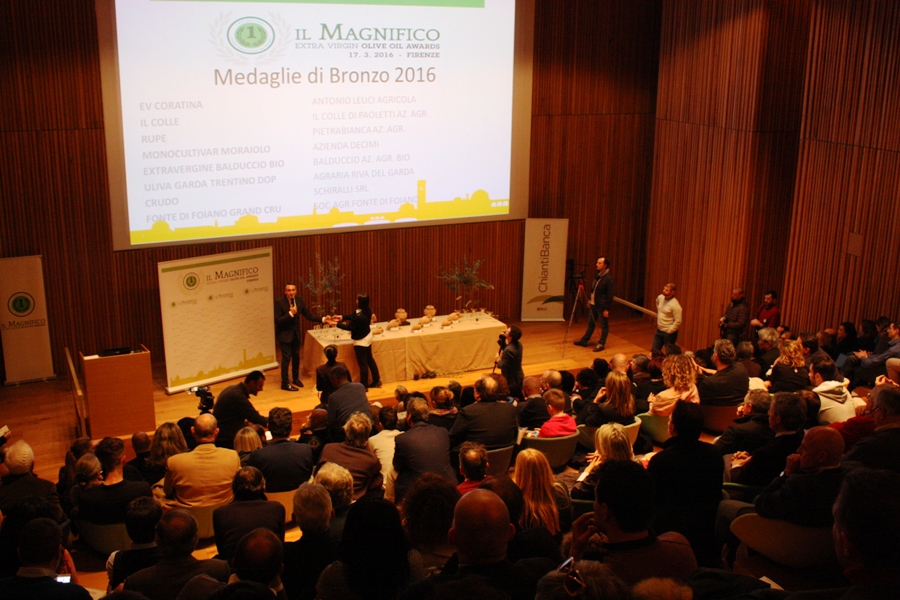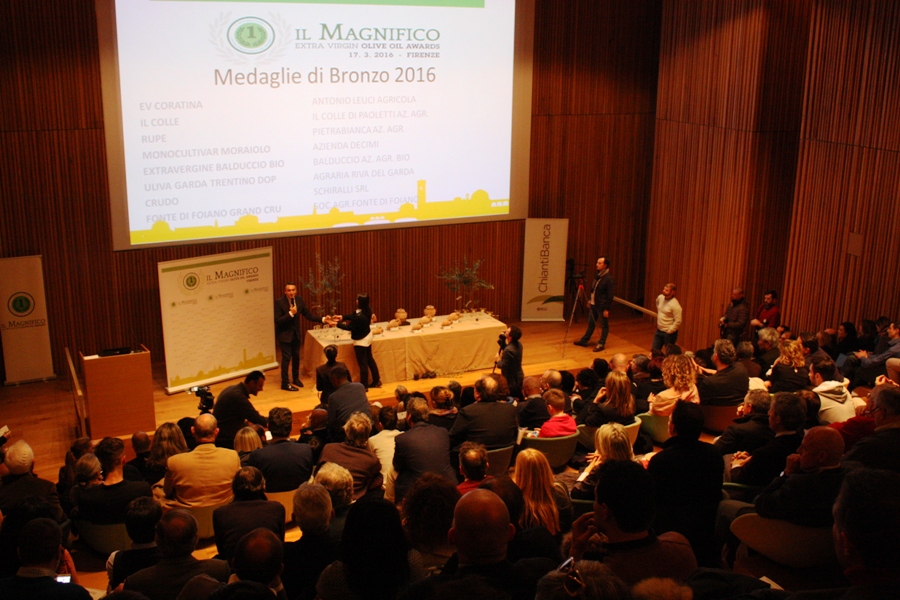 Then there are the four main awards: starting from Il Magnifico "which – explains Barciulli – goes to the most successful olive oil on the market, in terms of quality, production quantity, distribution and labelling".
"The Career Award – he continues – goes to Fernando Franci, father of Giorgio Franci; the "Personaggio dell'Olio" (Olive Oil personality) Massimo Pasquini Award, goes to Antonio Ricci of TV show Striscia la Notizia, for safeguarding against food counterfeiting".
"Finally – concludes Barciulli – an award dedicated to women. There are many women who work in this sector, they have better taste than men. We'll give the "Donna dell'Olio" award to Dr. Maria Lisa Clodoveo, who has done pioneering research on the ultrasonic separator ".
Here's all the awards. And … good luck to all the producers.
– Il Magnifico 2018 – European Olive Oil Award
– Marco Mugelli Award – Premio alla Carriera 2018
– Massimo Pasquini Award – Premio personaggio dell'olio 2018
– Menvra Award – donna dell'olio 2018
– AIRO Chef dell'Olio 2018
– AIRO Ristorante dell'Olio 2018
– AIRO Pizzeria dell'Olio 2018
– Emerging Company Award 2018
– Biofenoli Award 2018
– Best Organic Award 2018
– Full Value Award 2018
– Toscano IGP Il Magnifico Award 2018
– Chianti Classico DOP Award 2018
– Kids Choice Award 2018
– Best of Europe "Spain" Award 2018
– Best of Europe "Italy" Award 2018
– Best of Europe "Europe" Award 2018
– Packaging Award 2018
Matteo Pucci
Read more...