Articolo disponibile anche in: Italian
"Welcome to Radda, the most beautiful town in the world!". That is how Luciano Porciatti greets whoever enters this town for the first time.
He owns the most representative shop of Radda in Chianti and its citizens, a shop that has been run by the Porciatti family for more than 50 years.
If I ask him how it all began, Luciano and his sister, Anna, remember the uncertainty which accompanied their father, Luigi, when in 1965, he decides to follow this path.
"We came from a sharecropping past. A lot of money was required to open the business, so clearly our father was worried".
Those were years in which people left Radda to go to Valdarno or Valdelsa. Luigi's choice turned out to be a good one. Anna remembers how in the early 70's, the workers of the Roslein company, a type of "Celine", "lined up outside the shop to buy liver which they had ordered days in advance!".
But times were different then, Luciano remembers: "When I began, everything was different. It wasn't like today when we have everything available. Pigs weren't slaughtered in the summer and we kept only prosciutto, sbriciolona and salame. In Radda, by tradtion, everything had to be ready for the Festa del Perdono (the last Sunday in August), and the week before, we began to work on the pork in order to have "buristo" and soppressata".
It took a long time to arrive at the Casa Porciatti that we know today, (delicatessen, butcher shop, and food store). Because initially only foodstuffs were kept in the store in via Roma.
A few years afterwards, Luigi, who used to work as an "innestino" during the summer months and as a "norcino" during the winter, took over a butcher shop.
In 1996 everything was transferred to the actual store which was completely renewed this year. The Porciattis in fact, don't rest on their laurels and always look ahead, as the opening of their wine shop in 2001 demonstrates.
It is located along the medieval walk and is now run by Riccardo, Luciano's oldest son.  The sommelier who evidently inherited the wine side of his grandfater, Riccardo is an expert in wine and was able to turn his passion into a job.
In 2013, the "enoteca" became a wine bar and in 2015, with the additiion of a kitchen, it became a restaurant where, for lunch, they serve excellent dishes accompanied by excellent wines.
The family traditions are in good hands, because Francesco, Luciano's second born, gathered all of his father's teachings and works with grand skill in the making of cold cuts, the prize offering of the business, sought after in Italy and in the world.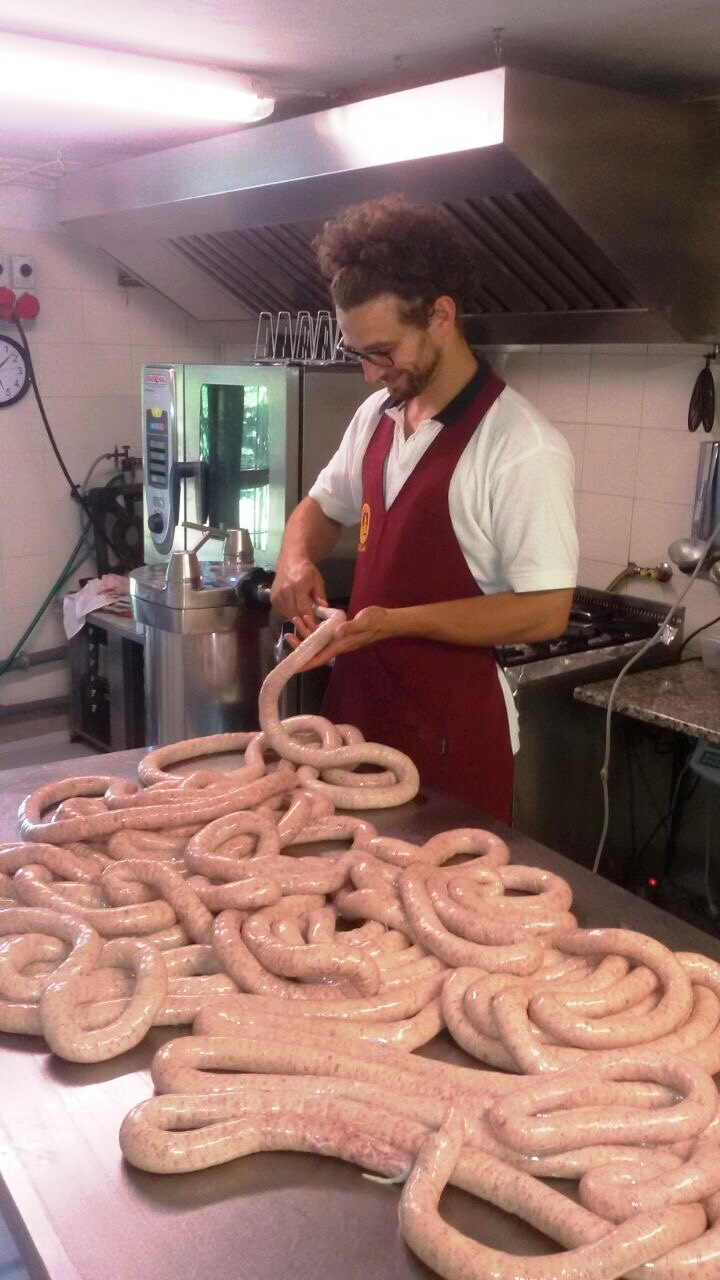 As you can see, the real strength of the Casa Porciatti is here, in the ability to renew when necessary without forgetting the tradition which always made them shine.
They were able to take advantage of everyone's talents, making them all indispensable. There is a motive for them being among the few who have been able to pass on their crafts over three generations.
Emanuele Grazzini
Read more...