Articolo disponibile anche in: Italian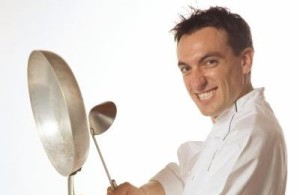 Every house has its own habits and secrets, and thanks to one of the secrets, today we are going to taste a delicacy.
In 1985, the Calonaci family, restructured their grandfather's abandoned house. In a drawer, they found some cotton balls holding seeds and beans.
Luigi remembered the famous "Burrino Maturo" bean, brought home by his grandfather from an agrarian course in 1911. Starting with this cultivation, today we retrieve and enjoy a piece of history.
This treasure formed like a bean is found only at their house, dry during the year, fresh at the begining of August. They cost a bit more but are worth the price.
You prepare them like this, without soaking them, using clean water, water from a fountain or bottled water. Their taste is too precious to be mixed with chlorine.
Then a very very slow cooking, almost 3 hours. When they are ready, we take a small quantity together with the cooking water. In the meantime, a scallion should be well cooked with a bit of very thinly cut lard and a drop of olive oil.
Then the beans are added and slowly cooked for about 15 minutes. They are then blended and strained, obtaining a smooth cream. In the meantime, ravioli are prepared with chopped shrimp seasoned with grated lemon, chopped chives, salt and peperoncino.
Boil the ravioli and place them on the cream of beans. Then add whole beans and a bit of crude olive oil in the center of the plate. I have nothing else to add. Get to the stove and enjoy! See you next time.
Matia Barciulli, chef, Technical coordinator
Antinori's restaurants… and father of Brando
Read more...