Articolo disponibile anche in: Italian
62 butcher shops in Florence and its province (many in Chianti), will participate in a day of solidarity for the ANT Foundation on Saturday, March 25.
"Participate with your butcher and you will perform a gesture of solidarity. Your butcher guarantees quality. You can trust him". This is the claim for the 10th edition of the "Giornata dei Macellai ANT 2017".
The event combines some of the specialties of the Florentine territory. On one side there are two associations, the association Macellai-Cesec of Florence and province and Agiva Federcarni of Valdarno.
On the other, there is the ANT foundation, which assists, at home and free of charge, those who have cancer. It also offers cancer prevention projects, always free of charge. As in past editions, all of those who go to a store which participates in the event can donate a part of the proceeds to the ANT Foundation. You can consult the site for participating butchers: www.ant.it/toscana.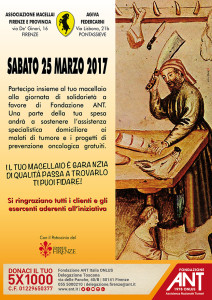 "Florentine butchers have supported the ANT Foundation for many years and are very proud to have contributed to the work that the ANT does daily in favor of the many suffering from tumors", says Vasco Tacconi, 'Gran Maestro dell'arte dei Beccai fiorentini', and historic figure of the butchers' association.
All of the proceeds collected will support the activities that the ANT performs in Florence, Prato and Pistoia. The health structure of the ANT in the Tuscan region is made up of 9 doctors, 6 nurses and 3 phychologists.
The following in Chianti adhere to the initiative. In San Casciano, Casini Carni di F. Casini in via Roma 15; Frittelli Fabio in via Empolese 1/r; Pecci Gino in via Borgo Sarchiani 6; Secci Dario in via IV novembre 122; Nesi Adriano in via Niccolò Machiavelli 10.
In the town of Greve in Chianti: Fagotti Paolo in piazza Giacomo Matteotti 45; Ceccatelli Mario in via Cesare Battisti 17; Fabiani Giovambattista in via Roma 21; Checcucci Renzo in piazza Ricasoli 6 (Panzano in Chianti).
In the town of Tavarnelle: Parti Emiliano in via Senese 33/35 (San Donato in Poggio); Francini Enzo in via Gramsci 10 in Sambuca. Finally, in Barberino Val d'Elsa, Nannoni Giovanni in piazza Barberini 5.
Read more...