Articolo disponibile anche in: Italian
The countdown has begun. In San Casciano on Sunday, March 26, the Middle Ages return to San Casciano with the "Carnevale Medievale".
The entire town will take a step back in time. There will be armigers, dames and gentlemen, the plebe, thieves and women of the night, archers and games of the epoch, and stands with delicacies of the period.
There will also be shows, jugglers and music while the story of Castruccio Castracani and the siege of the castle of San Casciano is told.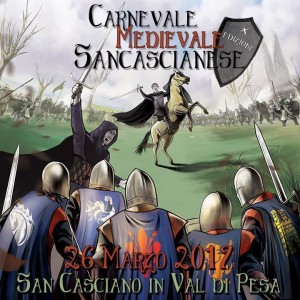 Carnevale and Lent are two faces of the medal which, in the past, represented two cardinal rules of life (religious and other) of the people. San Casciano relives this tradition on a special day.
The main event will take place in the afternoon; the challenge among the five neighborhoods: Giglio, Torre, Cavallo, Gallo and Leone.
They will go down to the piazza to perform their shows in front of a jury ready to evaluate creativity, ties with history and tradition, and folklore on this special day.
As always, it will be a grand event, between darkness and light, misery and nobility. Follow us on WeChianti to keep updated on the coming event.
Read more...