Articolo disponibile anche in: Italian
What are the ingredients for a perfect wedding? A sunny day, a radiant bride and an excited groom.
At the Borgo Casa al Vento, winery in Barbischio, in the hills surrounding Gaiole in Chianti, a vineyard wedding is unique, inimitable, and magical.
"The wedding which dazzles me most is that of Neil, Scottish, and Carisa, German," says Francesco Gioffreda, owner of the winery. Francesco puts extraordinary passion into every detail of his business which unites wine, territory, hospitality and authentically flavored cuisine.
"Now," says Francesco, "Neil and Carisa live in Hong Kong. But they have decided to join friends and family in one of the most beautiful places on the planet, Chianti".
"And it was an honor – continues – when, after much wandering, they chose our authentic simplicity and decided to get married at Borgo Casa al Vento."
A wedding in the vineyard means wide open spaces (or covered areas in case of bad weather), and filled tables where you can share the emotions of a special day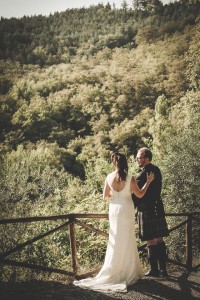 "The vineyard is a symbol of life," continues Francesco, enthusiastic to share his passion for this small world located on a terrace facing Chianti. "Our wines, Aria and Foho, are the framework for a wedding banquet where, although the guests are from all over the world, the Chianti cuisine excels. The genuineness of our ingredients and the decisive flavor of our olive oil exalt the taste of the dishes".
The "Chianti wedding" has become a fast-moving entity in a territory which, among its many proposals, is attracting a lot of attention for unique and unforgettable ceremonies.
Borgo Casa al Vento is part of this context thanks to its key words: authenticity, lightness, sincerity, and high quality structure and personnel.
Here, the uniqueness of the wedding day is lived with emotion by the organizers as well. Info: www.borgocasalvento.com.
Matteo Pucci
Read more...