Articolo disponibile anche in: Italian
It started this morning, Monday, February 13, 2017 edition of Chianti Classico Collection, the presentation of the new vintages of Chianti Classico for the sectors leading experts: a unique opportunity to get to know the DOCG even better, along with its wines and the latest news from one of the world's leading winegrowing areas.
All this is the Chianti Classico Collection, one of the most important events in the international winegrowing calendar, on the 13th and 14th February, held once again in Florence's attractive Stazione Leopolda, the usual venue for the event.
The Three Hundredth Anniversary vintage and its importance for the local area. In 2016 Chianti Classico celebrated the 300th anniversary of that far-off 24th September 1716 when, for the first time in history,  Grand Duke Cosimo III de' Medici decided to issue a notice defining areas particularly well-suited to fine quality wine production, including Chianti, where Chianti Classico wine is made today. The 24th edition of the Collection will feature the first preview samples of Chianti Classico from this historic vintage.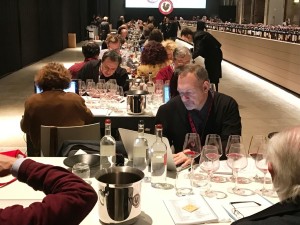 "The is the fifth time I have taken part in the Chianti Classico Collection as Chairman of the Consorzio Vino Chianti Classico," says Sergio Zingarelli, "and I am increasingly aware of the event's growing importance, bringing journalists and experts from all over the world to the city of Florence. It is true to say that our wine year begins with the Collection, and I feel duty-bound to take this opportunity to reiterate the importance of the many different features of our area, from beautiful landscapes, to ideal winegrowing land, to its human and social aspects. This year's edition, the 24th, will illustrate a considerable strengthening of this DOCG zone, with all-time record numbers for both economic statistics and participation, of members as well as the press and experts from the sector".
The "Leopolda del Vino" statistics
185 estates with 676 wines available for tasting. A total of 9000 bottles which will be opened and served by a team of 50 sommeliers in a two-day exhibition, in the presence of over 300 journalists from 30 different countries worldwide and over 1500 experts from Italy and abroad. There will be 57 preview barrel tastings of the 2016 and 87 Chianti Classico Gran Selezione wines.
As usual, on 13th February the Collection will open its doors to the national and international press and, in order to  facilitate the representatives of the HoReCa sector, experts will also be able to enter from 10am to 6pm t meet the producers and taste the various wines. The 14th February, St Valentine's Day, will be open exclusively to the press.
It will also be possible to taste olive oil at the Leopolda, made by the 28 estates producing PDO Chianti Classico. The Fondazione per la Tutela del Territorio del Chianti Classico e della Lega del Chianti are also expected to take part.

Read more...