Articolo disponibile anche in: Italian
A new season is beginning for the school for young farmers in the Chianti region. "La scuola per contadini" (farming school), attended by more than 30 students divided into two classes, are for kids from all over Italy between the ages of 16 and 18.
Chianti is once again offering an opportunity to take advantage of talent and vocation tied to the love of the land, due to the growing interest in the return to farming culture roots.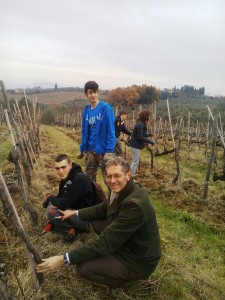 The school follows an alternative model that changes classroom lessons into lessons in the wine cellar or outside in the heart of the Tuscan countryside among olive groves and vineyards, thus building the future of a new generation of farmers. T
he project, put into effect by the townships of Chianti are activating the new, biennial course thanks to financing from the Ministries of Work and Political Sciences as part of the project of the Tuscan region "Garanzia Giovani in Toscana – Giovani Sì"", for an investment equal to approximately €124,000.
The past editions met with much success and the township administrations of Barberino Va d'Elsa, Bagno a Ripoli, Greve in Chianti, San Casciano and Tavarnelle are once again offering educational and professional courses of studies, recognized at the European level, in the rural training sector.
The proposal intends to meet the needs and the economic trends of the contemporary context of the territory.
The school will be activated by Chiantiform together with the specialized training agencies, Coop 21, the agricultural Institute of Florence, Toscana Formazione, Apab and the contribution of ChiantiBanca.
The educational purpose of the project is based upon social proposals in contrast to the abandonment of scholastic instruction in Tuscany and on a national scale.
The number of 16 year olds who stop studying due to social and/or economic difficulties is on the rise. For information: www.chiantiform.it.

Read more...