Articolo disponibile anche in: Italian
"This house breathed liberty even before you arrived": Gianfranco Sanguinetti always says to Demetria Verduci and Duccio Trasinelli.
Gianfranco, revolutionary and member of the "Internazionale Situazionista" in the 1970's with Guy Debord, lived in San Cresci where the current site of the San Cresci Millstone is found (www.chianticom.com). It is a residence for artists that is close to Montefioralle and Greve in Chianti.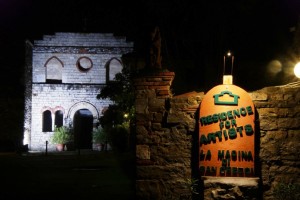 "After caring for the restoration of the farmhouse, together with the Diocese and the Superintendence of the Church of San Cresci, the oldest and most important of the Chianti region, we wanted to create something that maintained the artistic and cultural vocation of the location," declares Mimma Verduci.
"In 2007, we inaugurated our residence for artists, one of the first of its kind." The millstone is part of the international network, Res Artis, and hosts foreign artists, especially Americans, Australians and Canadians. "Here they find the right atmosphere to connect with the world and to find peace and inspiration," explains Duccio Trassinelli, artist and designer.
But not only that. "Many of them want to know better and have a deeper knowledge of the area, and desire to have an exchange and identify with this reality. For this reason, we involve them in a series of activities that puts them into contact with artisans and local artists".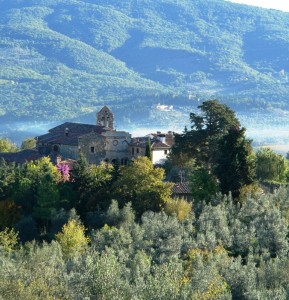 This is an important work capable of giving value to and promoting the other Chianti; the terracotta work, small artisans, art, and culture which are reconfirmed by a project that the millstone promotes and which will be inaugurated most likely in the spring: Slow Road.
"Everything was born from the realization that the millstone can be found within a ring of 8 km which is already frequented by tourists and residents. This circle includes Greve, Montefioralle, San Cresci and Zano, a zone which lacks areas for relaxation and hospitality," specify Demetria and Duccio.
They continure: "We've created a project with three important objectives: to involve youth, to utilize the raw material of the area, like terra-cotta, and to host tourists".
The Tuscan region, the University of Florence, and the local administrations are enthusiastic about the idea. They have gone ahead to find interesting proposals from the young designers of the Department of Architecture (part of the Department of Design of Calenzano) and then to continue on to the creation of seating and relaxation areas.
Added to this is a map of the zone, where the workshops of local artists who, like Duccio, have been working in this area for years, can by located. Tourists will be able to visit them and live the thrill of seeing a work of art born.
Duccio concludes; "We are proposing a format which we will experiment in the Chianti region and which will be be replicated in other areas of Tuscany".
Luisa Carretti
Read more...