Articolo disponibile anche in: Italian
Francesco Bruni, 44 year old from Tavarnelle, chose art when he was a boy. Or perhaps… art chose him. The fact is that he now spend seven days out of seven uniting painting to the projection phase and printing at his company, Vision Grafica, in San Martino ai Colli.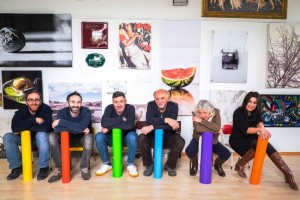 After artistic high school, Francesco began to exhibit in and collaborate with art galleries, which took him around the world. His personal show last spring at Palazzo Malaspina in San Donato in Poggio was visited by thousands of guests.
Conceptually, his painting approaches the relationship between the inside of the human being and nature. For example, he discovers how the cerebral vein and the tree have the same function. and how it mirrors, with a bit of irony, the world in which we live. Plexiglas is his parting base as well as glass, cement, mirror and iron.
He then uses the computer, in order to express a thought with deep meaning. He does this through forms of visual installations or suggestive, extraordinary works of art, all worthy of admiration.
"Sometimes I am asked if I always paint," begins Francesco. "You are an artist for life. It is a vocation. What motivates me is to think that somebody on the other side of the planet can wake up one morning and appreciate my creations".
"In one way," he explains, "art is like discography. The key to both is the purchase by a client. It means that the message has arrived. This is the greatest satisfaction. I address myself to whom is nourished by sight: who reads a book, views a painting, buys an album".
"My profession," he admits with straightforwardness, "is one in which you can spend a month drinking champagne and months eating peanuts. But I wouldn't change it for anything else".
"I love to work with the "social"," he continues. "The children of the nursery school,'La Casa del Sole' in Barberino Val d'Elsa, painted the foliage of my 'Tree' with their footprints".
"Contemporary Art is not banal," concludes Francesco, with a moment of reflection. "It isn't simple to create. When somebody says, 'I could have done it too', I feel like answering: then why didn't you?".
Noemi Bartalesi
Read more...