Articolo disponibile anche in: Italian
Children's Theatre begins at the Regina Margherita Town Theatre of Marcialla (Barberino Val D'Elsa-Firenze). On Thursday, December 8, at 5 PM, the compagnia il Baule Volante presents, "Nico cerca un amico" ("Nico is looking for a friend"), a puppet show based on a short story by Matthias Hoppe.
The text and direction is by Andrea Lugli who is presenting with Liliana Letterese. Scenery and props are by Lorenzo Cutuli. "Nico cerca un amico" is a reflection on friendship and diversity presented in a simple and poetic language.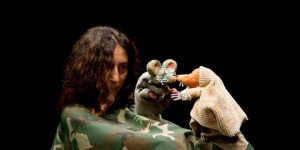 Nico is a happy mouse. He has a beautiful home and likes to play with his mouse friends, to eat, to sleep and take walks. But today he doesn't feel like playing. He isn't hungry or sleepy.
He feels like looking for a new friend, a special friend; one who is different from him. So he takes off on his search. Once out of his house, he meets many animals, all different; some big, some small, some tiny.
Some are also dangerous. They all offer their friendship but it is difficult to find a different type of friend. The appointment is part of the theatre's new season.
It is a varied program which aims mainly at families, But don't forget to put prose and music on your appointment list. There will be children's theatre, popular theatre, theatre in dialect, contemporary and research theatre, jazz with the wine tasting and band concerts.
You can see the complete program at www.teatromargherita.org.