Articolo disponibile anche in: Italian
"Working with bees, you have to be calm and steady. Avoid brusque movements, and strong odors or loud noises. They must be treated like ladies!".
These are the words of Valerio Fantacci, a self-made beekeeper from Tavarnelle. He has dedicated all of his energy to his grand passion: his animals, an exceptional resource, their products, delicious in milk, chamomile and tea, his cheeses and his bread.
Valerio Fantacci, 76 years old, learned his trade from books and expert advice. He has perfected it through many years of experience., Although he doesn't go on vacation, for him, going into the field with mask, overalls and gloves is a holiday.
"In the 50s", he begins, with his ever present wife, Carla, at his side, "the bees sucked on honeycombs on a farm. But they weren't my bees. After, I did other jobs, including working in our knitwear factory".
"In 1980 I bought some land in Magliano, near Tavarnelle", he says. "When I found a swarm attached to an olive tree, the urge returned. So I bought three beehives from Bruno Catarzi, an old beekeeper, and with his help, I enlarged. I even had 100 hives".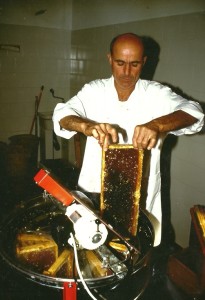 "Now I have about 70", he continues, "in various locations: here (on the Via Cassia sud, 5, second home) where I have an authorized laboratory, in Magliano, in the township of Certaldo, on a hill of San Polo in Chianti and in Porcignano (Radda in Chianti)".
"From November to March", he explains, "the bees rest. In March, we check them and compare them. If one is stronger, we remove a honeycomb that has been incubated and give it to the weaker one, and viceversa. Reproduction takes place in April".
"At the beginning of June", he continues, "we take the first honey, acacia and (rarely) heather. At the end of the month, we get linden. Between July and August we collect chestnut, millefiori and honeydew, the most typical of this area. Then the honey is left to rest in the "maturatori" for around 10 days, jarred ad labeled".
Noemi Bartalesi