Articolo disponibile anche in: Italian
Markus Holzinger, an artist from San Casciano, is much appreciated, thanks to the art shows he has held in town and outside (for example at the Fortezza Medicea of Siena last June).
He is originally from Germany. We met him and discussed his connection to Chianti and its influence on his painting.
"My whole family moved to Italy in 1975, in a beautiful old farmhouse between Tavarnelle and Montespertoli. There were many olive trees and a vineyard are that I explored as a youth. Since both of my parents were artists, the house was always full of friends visiting from Germany, especially in the summer but also at Easter".
Markus learned Italian quickly, was well integrated at school and in town and made friendships that he still has. He attended scientific high school and then studied philosophy; something that foresaw the necessity of an interior itinerary, sometimes metaphysica;, that became concrete in the following years.
"Of course – says Markus – I realized that with a degree in philosophy a job wasn't available, and since I loved computers, I found a job as a computer consultant in San Casciano with the Bandinelli companh. There I met Sabrina, my future wife. Thus, San Casciano became my town and I continued to work there even after the company closed".
In 2010 Marcus decided to be baptized with his sister Daniella in a beautiful ceremony at the convent of the Clarissas on April 25, 2011. At this time he decided to express his soul and his life in a different way and the painter within him was born.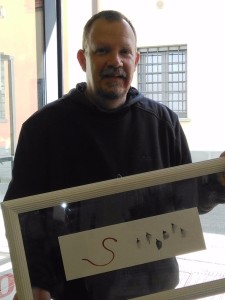 "In 2010 I began to paint," he tells us with emotion, "something that was necessary for me. I painted instinctively on sheets of paper and I remember the support I had in those moments especially from Giuliano Ghelli. In 2011, I had my first show at the competition Fiori and Pittori".
After that art became a daily necessity to Markus' world, a diary on which to note all of the emotions tied to that which surrounded him.
Can we speak about Marcus' painting that gets inspiration from these places and which was born thanks to the world that surrounded him?
"Yes. Volterra, San Gimignano, Scarlino and San Casciano are in my mind and my heart,", he explains. "My abstract and contemporary painting take its form from the images of these places. Clearly, Germany is also in my paintings, especially the forest, the German woods which return because they are at my roots".
It is clear that Markus loves the area, to the point, which he confesses, that he doesn't even feel the need to go on vacation: "The decision to come and live here in Chianti was a gift".
When we say goodbye to this artist, who took us on the discovery of his soul, we are left with the teaching that in order to see the beauty in things we need to live them in an instinctive way, without limits.
We learned that the forms and colors that we find in his paintings are alive like the olive trees, the country paths, the brooks and the hills of our Chianti.
Silvia Luis