Articolo disponibile anche in: Italian
The contemporary tavern, "Il Gourmettino", owned by Domenico Cilenti, is dedicating an evening for friends with an unusual dinner: a tribute to Puglia by the San Casciano Artist, Elisabetta Rogai.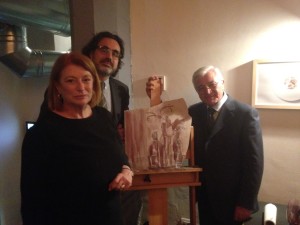 Time and nature meet for a magical event; a live performance of EnoArte. Elisabetta Rogai will perform her art on sheet of stone from the world leading Dell'Erba Company from Apricena in Gargano.
"Nero di Troia" wine from the Le Grotte winecellars of Foggia and the cooking of Domenico Cilenti are protagonists in Florence.
This is a tangible sign of an evolution that relates the capacity of producing quality without equal; the history, nature and culture of a territory, unique for its richness… Puglia.
Elisabetta Rogai seizes the moment and uses varied products in conjunction with her EnoArte; she lives them and transforms them into an evocative moment. She also uses thoughtful innovation, reflections of her thoughts, her curiosity and her eclecticism; the Garganic stone from Apricena on which she paints with wine, which she dominates, with grace and knowledge.
She makes it come alive, forms it with color and gives it a soul
For the first time we see the unusual combination of stone and wine; this stone is used as the artist's canvas and it unites with wine in art.
These are two products of our earth which represent culture and tradition, history and the future; season after season. nothing speaks of our earth like wine and stone.
Emotions are gathered in a glass of wine. A masterpiece of nature is born.