Articolo disponibile anche in: Italian
Delicious aromas invite us to go inside.
And when we enter the osteria "La Sosta di Pio VII" – located in Sosta del Papa, in the municipality of Barberino Tavarnelle – the owners Roberto Vannini and Gabriella Frati welcome us.
Joking around, they tell us that they are related, aunt and nephew. Both have always worked in the restaurant business. She's a cook. He studied at hospitality school, "because there was too much mathematics and science in Agraria", he says smiling.
He loves their osteria – our "little local", he calls it – and the contact with people, "but only with the nice ones" (he adds, jokingly). She loves to create lovely food, and takes great satisfaction when the customers appreciate it.
Their menu is traditional Tuscan cuisine, revisited. And looking at all their dishes, we were immediately struck by the tortelli della vendemmia (grape harvest tortelli), one of their original creations.
The contrast between the sweetness of the grapes and the wine, and the intense taste of the blue cheese creates a perfectly balanced result.
"How was this recipe born? We wanted to make a different tortello, but still using typical Tuscan products – Roberto and Gabriella explain – It was the time of the grape harvest, and a supplier brought the blue cheese to us. First we stuffed the tortelli with the grape, then we created the sauce. "
"They are available on our menu from October until December at the latest – they continue – We don't remember anyone not appreciating them. But obviously they are suited to people who like the 'dolceforte' taste, which combines sweet and strong flavours".
The recipe for the "Tortelli della Vendemmia"
Ingredients for the filling
Red grapes (possibly the small grape variety), blue cheese (for example the Blu del Mugello), a little cream (or milk, if you prefer a lighter filling).
Ingredients for the sauce
Butter, parmesan cheese, Sangiovese wine sauce (made with 200 grams of good wine, 100 grams of sugar, 2/3 juniper berries and 2/3 bay leaves).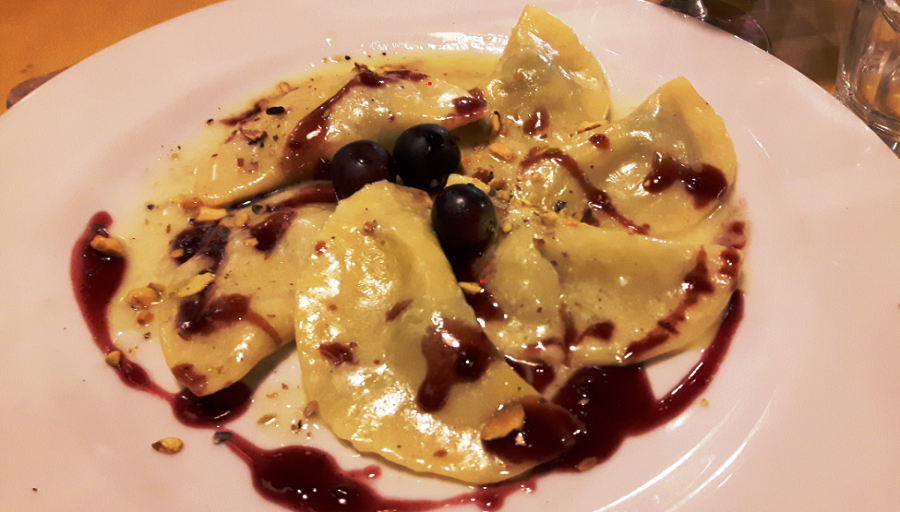 Preparation
First you prepare the dough. Then we move on to the filling. Blend the blue cheese with the cream (or milk), in order to have a creamy mixture (but not too runny); fill each tortello with a tea spoon of this mixture, and add a red grape.
Then close the tortelli (the shape can be square, rectangular, round, half-moon: as you like).
To prepare the Sangiovese wine sauce: boil together wine, sugar, juniper berries and bay leaves. Let it reduce until it becomes half of the initial quantity (about 150 grams). Then let it cool down. The resulting sauce should be quite thick.
Cook the ravioli in abundant salted water, then stir-fry them with a bit of butter and grated Parmesan cheese.
Finally, they are served on a tray with the Sangiovese wine sauce and a few grapes.
Read more...