Articolo disponibile anche in: Italian
On April 25th, one of the Chianti region's most original events will be back.
In Panzano in Chianti, the tourist and cultural association Il Grondino organizes the traditional "Festa della Stagion Bona" that will fill the town with a Medieval atmosphere and various shows.
From 11am until late at night the streets of the historic village will host a Medieval re-enactment, a parade of flag throwers and street artists.
You'll also find stalls selling Tuscan street food, craft markets and Medieval games, and at 11pm there will be fireworks and dancing in the square!
From 12pm several food stalls will serve typical dishes and local wines. Piazza di Campana: lampredotto, porchetta, sandwiches, wine and soft drinks.
Macelli: sweet and savoury 'ficattole' (deep fried bread dough), sandwiches, wine and soft drinks. Near the church: ribollita (traditional Tuscan soup), sandwiches, wine, soft drinks and for dinner first courses with sauces typical of the Chianti culinary tradition. At the Pietraia there'll be fritters, sangria and wine.
From 2pm street artists, jugglers and storytellers will bring colour to the streets of Panzano; in the afternoon you'll see flag throwing shows, organized by the Contrada Alfiere, sword fighting of the Compagnia delle Sàrtie and various shows for adults and children. It will also be possible to try out some Medieval games and archery with the Compagnia Arcieri del Rovo.
Piazza di Campana: old-style games (gioco dei tappi, schiaccia la noce) raffle and craft market. Pozzo dell'Oblio: Medieval games. School Garden: archery.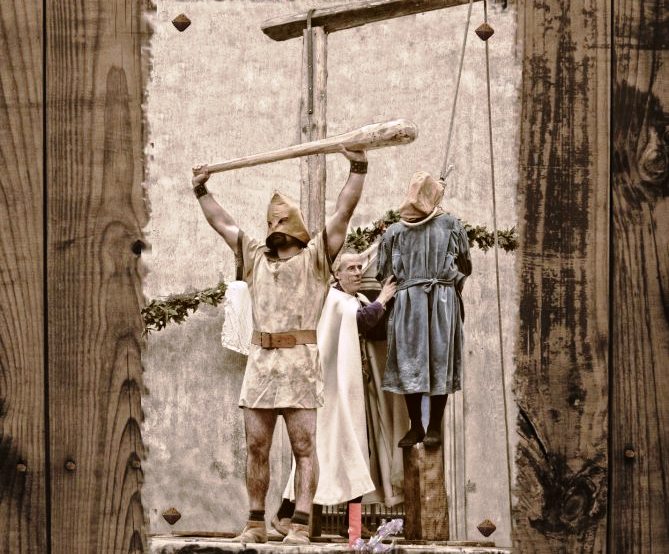 The historic costume parade will start at 4pm, with flag bearers, musicians and dozens of actors who will perform the staging of the feud between the Gherardini and the Firidolfi family, an historical re-enactment that involves the whole village.
Starting from the churchyard, the parade winds along the village's streets and arrives in the main square: here the process will be staged in all its drama, ending with the fateful scene of the hanging.
At 9pm kids' fun with the Bricco and Bracco exhibition in Piazza Ricasoli. At 10 pm music and dancing in Piazza Ricasoli. At 11pm fireworks.
Admission to the event is free.
Read more...