Articolo disponibile anche in: Italian
The Slow Food branches of Firenze and Scandicci – territories with a rich heritage of olive growers, farmers and olive mills – have decided to enhance the work and the dedication of these "olive keepers", who produce olive oil for their own consumption or for friends.
These small private olive oil producers can in fact now take part in a competition that will give a "surprise award" to the first three classified.
The "judges" will be the same producers coordinated by Sonia Donati, who is an expert on the subject and regional manager for the Slow Food Guide for extra virgin olive oils. Only those who produce less than 4 hectolitres of olive oil and do not bottle it for sale can take part in the competition.
The oil samples must be placed in a transparent glass bottle (minimum size: ½ litre) with a screw cap and an adhesive label that states only the telephone number of the producer.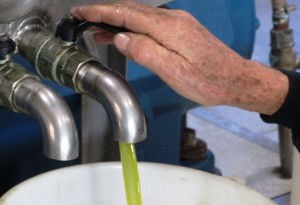 The samples can be delivered:
1) In Florence at the Circolo Boncinelli in via di Ripoli, January 28th from 4pm to 7pm, directly to Sonia Donati.
2) In Scandicci at Centrolibro, Piazza della Resistenza 2, by Saturday, January 26th (9am-1pm; 3.30pm-7pm).
3) In Sesto Fiorentino at Mazzanti-Bandinelli, via Massimo D'Antona 17, by Friday 25th January (9.30am-6pm).
For further information or delivery date, call Sonia Donati: 3471915509.
In the next few days we'll have information about the date and place where the comparative tasting of all the samples presented will be organised.
Read more...