Articolo disponibile anche in: Italian
"And here we are at Christmas! It has been a very satisfying year and we're hoping that the new one will be too. We have celebrated with our colleagues at the Italian Event Planners headquarters, in a cheerful and intense atmosphere. After all, women are able to combine professionalism with affection, intuition and complicity".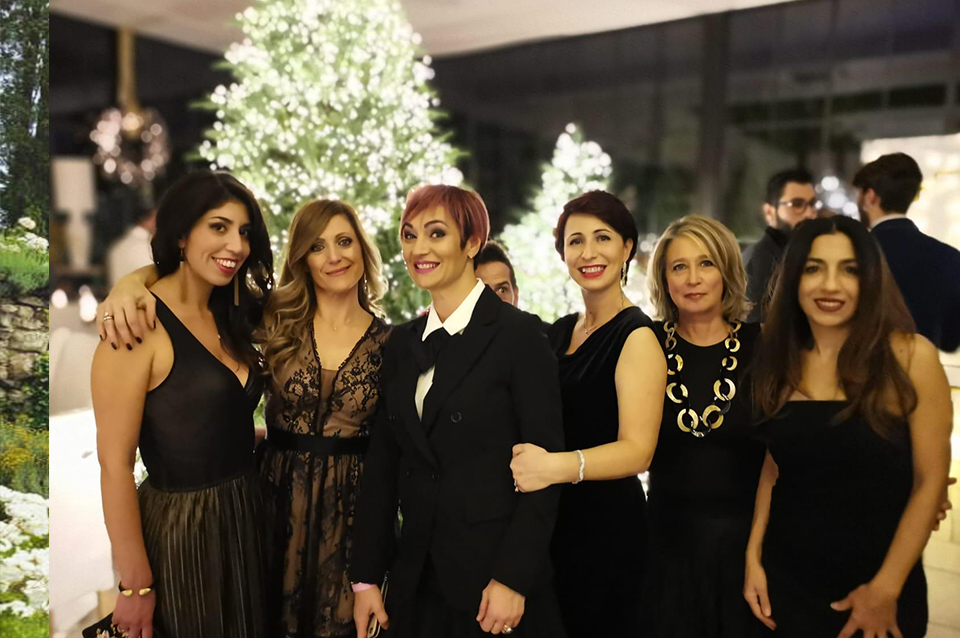 Simonetta Paoli and Debora Chioccini (you can find them in Greve in Chianti in viale Vittorio Veneto 80, Galleria delle Cantine, or welcometotuscany@italianeventplanners.com) congratulate everyone by taking part in one of the many events organised this year.
"Every wedding or event – they tell us – is born and grows like a living creature, around a theme, a style that will guide the whole design, although it is our task to suggest and guide the couple during the journey, the final decision is always theirs.
There are those who want the Medicean villa with a view of Florence with abundant flowers and decorations and those who love farm holidays, country chic, an "intimate" and natural wedding. Some ask us to allocate an important part of the budget for lights and music, others prefer to opt for a great photographer and videographer and have a memory made with wonderful images ".
Then they tell the story of Sofia and Phil, "arrived from Hawaii, focusing very much on the photo shoot, choosing a distinctive style".
"The villa on the hills of Florence is in a perfect position for those who want the proximity to the city but with views of the countryside. This is the landscape that served as a background to the ceremony. While the couple went to the Piazzale Michelangelo for the photo shoot, the cocktail party at the pool began".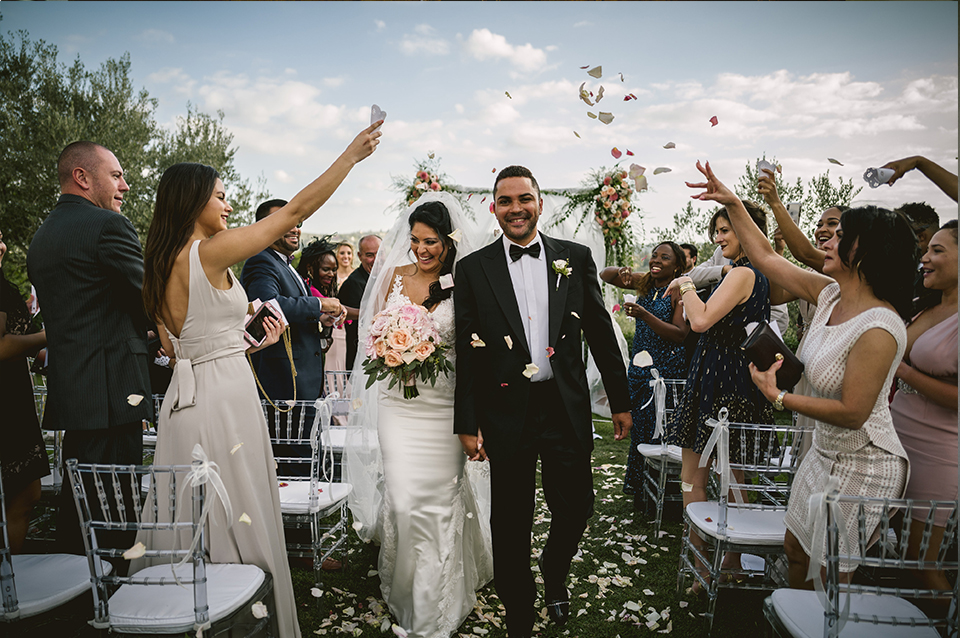 "In the meantime – they continue – we started to set up for the wedding dinner: lights, laid tables, place cards, tableau de marriage, floral arrangements, candles and music. In short everything must be coordinated and realised with the utmost care. Dinner, in the villa's amphitheatre with many hanging lights, a chef with a very popular cooking show prepared the wedding cake live, then came the first dances of the couples and parents, an emotional moment for everyone present (and also for us)".
"For this wedding – they say – we would like to thank Villa Le Piazzole, Class Ricevimenti, Elena Foresto Photographer, Gattotigre Videomaker, Marie Lou, Annalisa Flower Designer, Mary Zamperini Trucco and Dimensione Capelli Hair Stylist, Beatrice Bianchi Violino, Diego Costabile DJ, Vanessa Chioccini Graphic Designer".
"As always – Debora and Simonetta explain – it is after dinner that the atmosphere melts and the dances are unleashed by the DJ, when the bar opens, and the multi-ethnic collection of guests gave life to an evening that was particularly cheerful and lively. At this point our task, the work of wedding planners, ends ".
"The feedback we receive from couples who have entrusted themselves to us give immense satisfaction. They gratify and move us. Because ours is not a job like any other. Though we must organise and plan everything down to the smallest details, we must also bring every big day to life in a way that is both moving and memorable for all concerned".

Read more...