Articolo disponibile anche in: Italian
"Cena in Terra di Berardenga" returns on Thursday, August 10, in piazza Marconi in Castelnuovo Berardenga, organizzed by the associations of Castelnuovo, Assinfesta, together with the Township and the collaboration of Slow Food Siena.
Once again it will not only be a dinner, but a unique chance to taste the special dishes prepared by the restaurants of Castelnuovo enhanced by the great wines from producers of "Classico della Berardenga".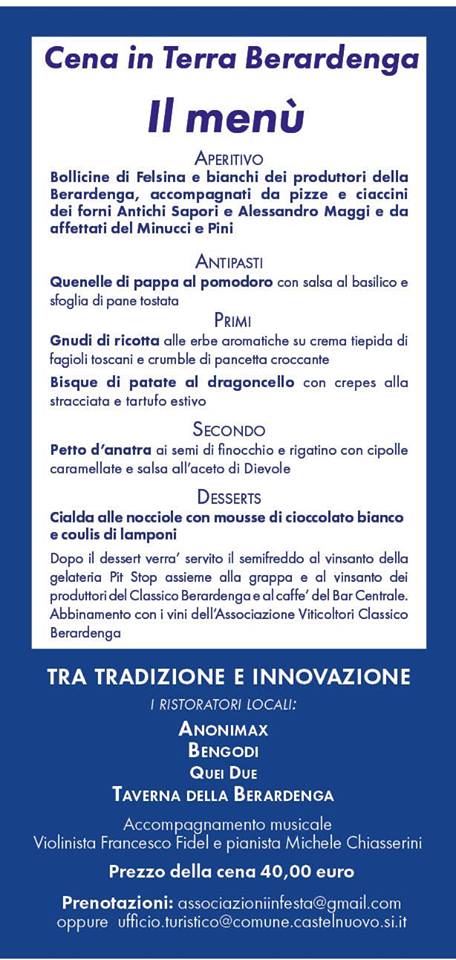 Each wine producer will sit at a table together with guests to guarantee the best accompaniment between food and wine.
The evening of the dinner and "Calici di Stelle" (Friday, August 11) the day after will be interdependent and complementary with the aim to present dishes paired with wines in the period preceding the events as well.
The idea is to create a month of "stars| in August and to offer a high quality food/ wine level to those who will visit Berardenga.
The collaboration with Slow Food Siena was formed through the common desire to give value to biodiversity and to the artisans of taste who make our productions healthy and traditional.
Participation in the Cena della Berardenga requires reservations (info and reservations 0577351337 – 3487400653).
This is necessary considering the high level of the food and wine proposals and the exclusivity of the evening.
Music will accompany the dinner. Let's not forget the 650th anniversary of the Constitution of Castelnuovo Berardenga (1367).
Castelnuovo was famous for its wines even in the 14th century. There will be an explanation about the oldest flask of wine which was designed in Berardenga near piazza del Prato (today, piazza Marconi) where the dinner will take place.

Read more...