Articolo disponibile anche in: Italian
Put it on your calendar: Friday and Saturday, July 7 and 8, starting at 7:30 PM in  piazza Vittorio Emanuele in Vagliagli (Castelnuovo Berardenga).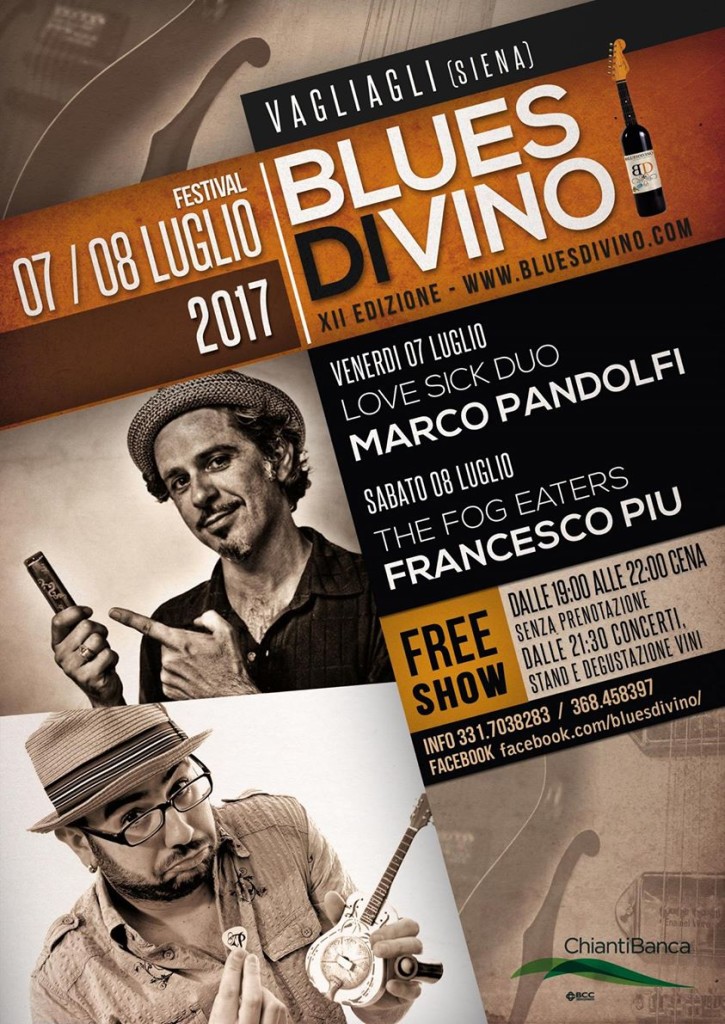 Two magical evenings of blues Made in Italy with the 12th edition of Blues DiVino: good music and wine with the addition of many delicious things to eat.
Every evening, starting at 7:30 PM, there will be dinner followed by concerts (starting at 10 PM), stands and wine tasting. Reservations are not necessary.
Friday, July 7, at 9:45 PM; Love Sick Duo; 10:45 PM Marco Pandolfi.  Saturday, July 8, at 9:45 PM, The fog eaters; at 10:45 PM, Francesco Piu.
The concerts are free. Blues DiVino started in 2006 with a joking proposal among friends. It soon transformed into a genuine blues festival.
In that year, in fact, after a long chat among friends, Lou Leonardi began to form what is now a festival. Big artists on the international blues panorama have participated.
The Tuscan guitarist started at the base, giving the name to the festival and creating a logo for the occasion which has become representative of this event. Afterwards, he took advantage of the collaboration and strong ties with some musician friends.
Italian and international artists have been on the stage: Ana Popovic, Tia Carroll, Andy Just, Waldo Weathers, Sugar Ray Norcia, Shakura S'Aida, Volker Strifler, Shana Morrison, MzDee, Maurizio Pugno, Morblus Band and many others.
Since 2012, the organization has had the precious help of the Polisportiva Vagliagli which will host the festival and give an important organizational contribute. Infoline: 3334578780 (Daniele). Sito web: www.bluesdivino.com.
Read more...