Articolo disponibile anche in: Italian
Barberino and Semifonte commemorate, remember and delve into history with a voyage of memory, culture, literature, games, crafts and fun from the year 1000.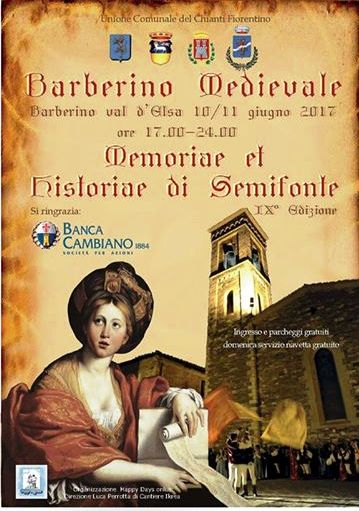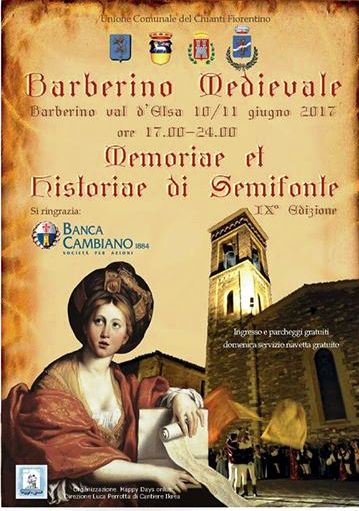 It is time for "Memoriae et Historiae di Semifonte", the awaited event which invites Tuscany to take a deep dive into the past into one ot the most legendary eras of the countryside.
On Saturday, June 10, and Sunday, June 11, from 5 PM to midnight, Barberino starts up the time machine to bring citizens and visitors back to the age when the castle articulated its days with the voices of the souls of illustrious poets like Francesco and Andrea da Barberino, the sounds of the artisan workshops, the melody of the citthara, the constant rhythm of the town criers, the colors of Eastern fabrics and the perfumes of the markets.
The doors of the castle of  Barberino Val d'Elsa, which face Florence and Siena on either side, are ready to receive the smiles, magic and atmosphere of the Middle Ages with the arrival of a joyous parade made up of 100's of participants from Barberino and the surrounding areas.
Nobles, plebes, warriors, artisans, framed by the song and dance of the minstrels, jugglers, magicians and little dancers, an entire town all dressed up for the traditional two days promoted by the Town Union of  Chianti fiorentino and organized by the "Associazione Happy Days Onlus", with artistic direction by Luca Perrotta.
You can hear the stones that were taken from the ruins of a city destroyed by the Florentines in 1202 and used to build the Barberino castle. Today they are reborn like the wings of a phoenix to give new life to the medieval village.
The president of the "Associazione Happy Days", Anna Brancaccio, llustrates the novelties of the 2017 edition. It is a celebration which extends to and invites Chianti and Valdelsa to turn the pages of of the book of origins with an objective which can thank the solidarity and cooperation of three specific projects which sustain the right to the health and instruction of Italian, African and Brasilian children.
The initiative was created in collaboration with Auser Tavarnelle e Barberino, Circolo Semifonte, Barberino&Friends who, over the two days, will host a delegation from the earthquake victim, the township of Montemonaco, with whom the Township of Barberino is following an itinerary of friendship and twinning.  Free entrance.

Read more...