Articolo disponibile anche in: Italian
There are little treasures of history which become alive again. After years of abandonment, the votive chapel of Peppoli, on the hill in via Gabbiano which connects Mercatale to via della Leccia, is being restored.
The chapel which was once tied to the nearby villa "Peffoli" (or "Peppoli"), belonged to the Buonsignori family in the 1400s.
It was passed on to the Gondis, the Cerchis, the Querciolis, the Saccardis and finally to the Antinori family, the current owners.
The chapel is in the style of the 16th century and was dedicated to Umiliana by the Cerchi family, a component of the family and venerated as a Saint. Within a half moon above the entrance door, you could see a figure until not too long ago.
It was probably Umiliana, who died at 27 years old on May 19, 1249.
A while ago we met an elderly woman who lived in the villa facing the chapel when she was young.
Leda, do you remember if the chapel held religious services?
"The Peppoli family wrote in their will that on All Saints' Day you should go there to pray. My father sang there with the pryor of Novoli, because the chapel belonged to the people of Quercieto in Novoli, a few kilometers away, part of the township of San Casciano".
For how long has it been closed as a place of religion?
"It was closed after the war. Thieves stole two crucifixes and candelabras. Only a painting remained".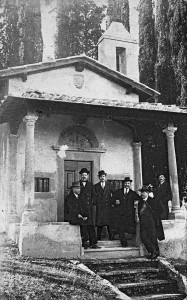 What do you remember seeing inside of the chapel?
"I particularly remember a plaque under the altar with the date 1729 inscribed in memory of the young deceased".
Another important testimony was found at the Historic Photografic Archives, Arsomiglio, in Mercatale, a beautiful black and white photo (ASFA 09) with the following inscription: "Chapel of the Peppoli of Mercatale. The second from the right is Adolfo Ricci; the third from the right is Augusto Botti, owner of the Ciappi farm in Mercatale".
Thanks to Arsomiglio for letting us publish the photo and thanks to the Antinori family who restored the Peppoli Chapel.
Antonio Taddei
Read more...