Articolo disponibile anche in: Italian
From the incredible treasure chest of Francesco Sorelli's splendid book, "La Toscana di Ruffino", (here on Amazon), we often offer a tasty Chianti or Tuscan recipe.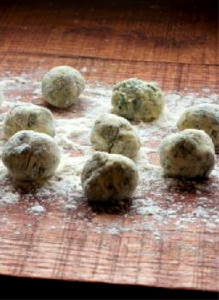 Today… "Gnudi alla Fiorentina". "Gnudi" is a word in dialect which means "nude, undressed": the term indicates a simple but tasty Florentine recipe based on a mixture of boiled spinach, ricotta and eggs, without a "pasta" covering.
Gnudi, ravioli without pasta, are usually prepared during the summer and made mostly of boiled spinach and ricotta made of sheep milk.
Added to the mixture is an egg yolk, while nutmeg, Parmigiano Reggiano and pepper enhance the taste.
Spherical shapes are formed and are dredged lightly in flour. They are cooked briefly in boiling water and served with butter, sage and grated parmesan.
Francesco Sorelli – Il Bisarno Oltre la Sieve – Photo by Sandra Pilacchi
Read more...