Articolo disponibile anche in: Italian
The walls are revealed through 3D technology, wich helps archeologists to investigate and explore the origins of San Casciano's Medieval walls.
A new digital light turns on and will give a voice to the walls, which date back to the second half of the 1300s and surround the town. What are the techniques and the construction phases?
What are the characteristics and dimensions of the single stones, the material used in the processing? For the first time, the San Casciano Castle will be able to be studied, analyzed and monitored through virtualization on the outside and the inside of the walls, a 3D reconstruction achieves by a group of undergraduates from the University of Florence, coordinated by the Manager of the related laboratory, Lapo Somigli.
The chair is Guido Vannini, Professor of medieval archaeology. Seven centuries from its construction, the monument, one of the most important architectural testimonials of medieval Tuscany, will facilitate a trip into the past, to discover written sources and other materials in a new form, and will offer new elements and related dates of the medieval construction site of the castle.
The castle already boasts an extraordinary document of the era conserved in the state archives. The antique circle of San Casciano will be valorized and recuperated thanks to a complex project of restoration which includes the study of the phases of construction and the restoration of some sections of the wall, for an investment equal to €530,000.
"The program of intervention," explains the assessor of public works, Roberto Ciappi, "expects to complete a complex operation of recovery and consolidation of the sections in via dei Fossi, viale Pascoli and the Tower adjacent to the Niccolini Theatre. Up until today, the section of the wall facing the gardens of the Piazza della Repubblica were enhanced through an arrangement which foresaw the elimination of the pre-existing parking lot, replacing it with a pedestrian area. A small section of via dei Fossi was included".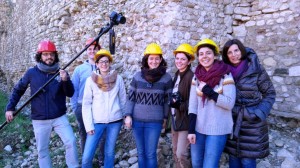 The students, who began taking topographic measurements, through the use of photographs and equipment, are Teresa Uliveli, Benedetta Pacini, Alessandra Rofi, Diletta Biagiotti, and Leonardo Squilloni.
"Our job," adds the researcher, Somigli, "is to offer support to the archaeological investigation and to allow the technical offices of the Township to have a detailed picture of the walls and to be able to use it as an instrument of monitoring which will also support the restoration project".

Read more...