Articolo disponibile anche in: Italian
To trace the remains of Semifonte-Petrognano is to give visible witness to the submerged city which was destroyed by the Florentines in 1202.
An archaeological walk among the tower houses, the ruins, the chapels and the villages in the heart of the countryside of Barberino Val d'Elsa has offered historians, administrators, and history fans the possibility to delve into the past and bring forth the secrets of medieval Semifonte, from whose ruins the Barberino castle was born.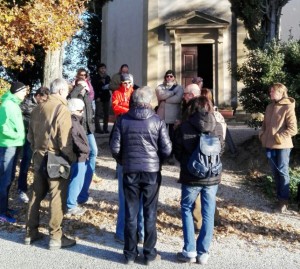 This is a heritage of great value around which a myth was created over the centuries.
The Town Union of Chianti Fiorentino, in collaboration with the regional Council of Tuscany, the Township of Certaldo and the University of Florence, plans to develop it on a historic, cultural, touristic and environmental scale.
40 years after the last study, the institutional synergy is launching a new season of investigation and research with some of the most illustrious Italian historians and archaeologists.
Where was the city found? How did its inhabitants live? From an archaeological point of view, they are looking for an answer through observation of the landscape, materials spread around the territory and through building structures that carry traces of medieval construction.
Presently, the majestic Duomo of Valdelsa, the Chapel of San Michele Arcangelo is found on the site. It perfectly reproduces the dome of the Duomo of Florence on a 1 to 8 scale.
The Valdelsa Duomo was built by Santi di Tito at the end of the 1500s. It is a spectacle which unites the landscape and architecture of the past of which National Geographic online has written about.
The archaeological trekking excursion, organized in collaboration with the archaeological group, Achu, and the contribution of the museum system of Chianti Valdarno is made up of several stops: the Chapel of San Michele Arcangelo, the Chapel of San Niccolò, the Torre and Podere of San Niccolò, Pieve Vecchia, Docciola.
The excursion was illustrated by the archaeologists, Andrea Vanni Desideri and Silvia Leporatti of the University of Florence and many volunteers from the Achu archaeological group, led by Roberto Agnorelli and including Bruno Rinaldi and Giacomo Cencetti. President of the Town Union of Chianti Fiorentino, Giacomo Trentanovi, also participated in the excursion.

Read more...