Articolo disponibile anche in: Italian
Registration is open for the 11th edition of the EcoMaratona of Chianti, programmed for Sunday, October 15, 2017. For those who register by January 8, 2017, there will be a discount of €25.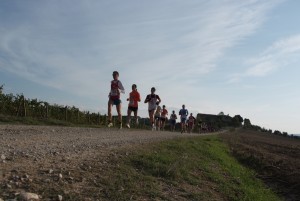 You can also sign up for shorter distanced races which will also take place the same day, The Chianti Classico Trail (21 km), €20 by April 30, 2017, the Trail del Luca (14 km), €15 by April 30, 2017.
Registration for the wine/ food walk, "Passeggiando per cantine", on the calendar for Saturday, October 14, 2017, will be open in the following months.
Sign-ups for the competitive distances will close with 600 athletes for the 42 km race, 1.000 athletes for the 21 km, and 600 athletes for the 14 km.
You can download the sign-up form and register online at the page,"Iscrizioni 2017" on the website, www.ecomaratonadelchianti.it.
You can relive the emotions of the last race on the homepage video from the 2016 edition.
For ulterior updates, photos and videos, check out the site www.ecomaratonadelchianti.it or see Facebook,Twitter, Google + and Instagram.

Read more...